Exclusive
Fashion Emergency! Vera Wang Served With Subpoena In Lawsuit Involving Oprah That Could Torpedo Her Fashion Week Runway Show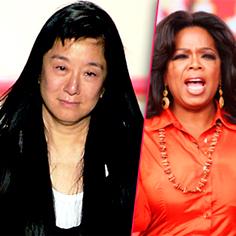 Bad news for Bridezillas: RadarOnline.com has learned that top wedding designer Vera Wang's February 11 fashion week show could be in jeopardy after she was slapped with a surprise subpoena asking her to sit for a deposition! Now, she's filed documents begging a judge to let her off so that she can continue to focus on churning out wedding confections for celebs and normal ladies alike.
According to court documents obtained by Radar, Wang filed a motion in NY court on February 3 asking a judge to quash a subpoena request that was served to her by Simone Kelly-Brown of Own Your Power Communications, who is suing Oprah over Winfrey's use of the term "Own Your Power" at a 2010 event.
Article continues below advertisement
Wang attended that event on September 16, 2010, at NYC's Hearst Tower, and so Kelly-Brown wants to know how she was involved with the use of the term in question. But Wang insists she knows nothing.
"I have a limited recollection of the event," the designer says in the documents. "I have attended numerous other similar events during the course of my career, making it difficult to distinguish between them."
In fact, she says, she stayed for less than an hour, and has no email records about her participation. She insists she was invited by the publisher of O magazine and did not receive any payment for her participation.
As such, she asked the judge to let her skip the requested deposition and focus on her upcoming show.
"I am currently working seven days per week to prepare for the Fashion Runway Show in New York beginning February 11," she claims, "which is a major fashion industry event. My schedule will remain extremely hectic thereafter."
Wang insists, "Sitting for a deposition would create a tremendous burden for me and the business of Vera Wang Bridal House. Based on my review of the subject matter of the subpoena, I am certain that I have nothing relevant to add to the dispute between the parties."
To find out the fate of her show, stay tuned to RadarOnline.com!