Vera Wang Once Again Denies Affair With Boy Toy Skater, Evan Lysacek, 27 -- 'I'm His Mentor'!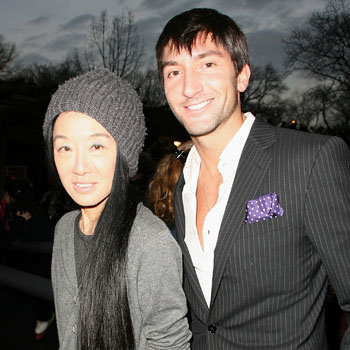 Article continues below advertisement
Wang, who was reported to be living with her cub at her New York City pad, denied that he was to blame for her marriage falling apart.
"I'm his mentor, his true mentor," she insisted to the creator of New York Fashion Week, who was conducting the interview. "I hope for his ongoing life after sports."
When Mallis attempted to delve further into the drama, Wang stopped her short.
"Oh, c'mon, not personal stuff," although mentioned that her ex-husband is "someone that will always be in my life."
Wang, once a figure skater herself, met Lysacek in 2009, when she designed several of his costumes, but The Daily News reported that their relationship escalated in July 2012 when she invited him to move into her Beverly Hills mansion.