In The Cougar Club? Is 63-Year-Old Vera Wang More Than Just Friends With 27-Year-Old Skater?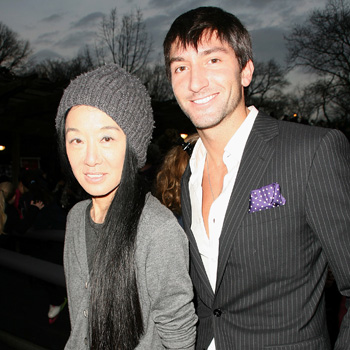 Is Vera Wang the latest member of Hollywood's cougar club?
She may have just announced that she is divorcing her husband of 23 years last week, but Wang is already being linked to a new man – and he is 36 years her junior!
According to new reports, the famous bridal gown designer has been spending time with 27-year-old Olympic champion figure-skater Evan Lysacek, and the May to December couple is already living together.
Article continues below advertisement
A source dished to The Daily News that the Dancing with the Stars alum, who has known the designer for several years, moved into Wang's swanky Beverly Hills mansion last month, and she offered him the opportunity to "stay there for a while."
Though details about their relationship are not clear, the source maintains that there is "something going on," while another tells the newspaper that she's "just enamored with him and enjoys his company."
Wang, who designed Kim Kardashian's wedding gown for her ill-fated marriage to Kris Humphries, announced last week that she was divorcing Arthur Becker, whom she married in 1989. The couple has two daughters together.
The first source also adds that it is "common knowledge" that Wang "recently got a face-lift and recovered in San Francisco" in late May and early June.
Wang, who was once a figure skater herself, has known Lysacek since at least 2009, when she designed several of his skating costumes.
Article continues below advertisement
Whether they are more than just friends is highly questionable, Lysacek has been subject to rumors regarding his sexuality for years.
Back in 2010 Lysacek hit back at Johnny Weir, after the flamboyant and out fellow skater questioned Lysacek's sexuality, but skirted around the issue at hand.
"Johnny Weir is an accomplished and talented skater...Since the Olympics, I've dealt with Johnny questioning my integrity and sexuality, and I've never spoken out on my own behalf no matter how hurtful those things may have been," Lysacek told Us Weekly. "I should have known better...Best wishes and congratulations to Johnny as he opens the new season of Ice Theatre of New York. I wish him well in all of his future endeavors."