Dr. Drew Heaps Praise On College Student Daughter For Public Admission Of Anorexia, Bulimia Battle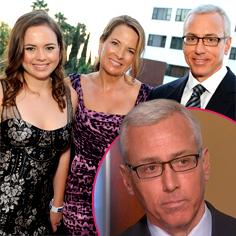 Dr. Drew Pinksy is opening up about problems that hit home, literally.
The TV doc, talking to Entertainment Tonight Monday, lauds his 21-year-old daughter Paulina for publicly revealing her ongoing battle with anorexia and bulimia, as he feels she's "using her insights to help others.
"We are so proud of Paulina and her outreach to help others and particularly empower women," the 55-year-old Celebrity Rehab star tells ET. "When she recognized she needed help she sought treatment and actively engaged in the process."
Article continues below advertisement
Paulina, a student at New York's Barnard College, blogged last autumn that she'd developed the eating disorder out of a pressure to be perfect, and knew exactly when she'd reached her breaking point.
"Purging eight times in one day to cope with the emotional stress of being home during spring break had finally scared me enough to take action," she wrote, calling her current self "a work in progress" who benefits from talking about her issues.