How You Doin? Historic Freeze Leaves Wendy Williams Stranded On Tropical Vacation… Flaunts Rockin' Bikini Bod To Make EVERYONE Jealous!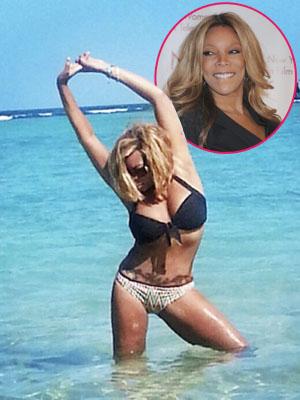 Wendy Williams has been enjoying some fun in the sun during the holidays and posted a photo of herself channeling her inner Beyonce while rocking a skimpy bikini.
Soaking up the sun in an undisclosed tropical locale, the 49-year-old talk show host posed with her arms locked together in the air while flaunting her toned tummy.
After posting the sexy snap, fans began to wonder if the slimmed down star had photoshopped the image.
Article continues below advertisement
But Williams quickly put the rumors to rest on Facebook: "Thanks for the love & hate, but people that's ME! No filter, photoshop or nothing...taken from my husband's cell phone an hour ago...sorry haters."
She was set to return to The Wendy Williams Show on Monday, but her travel plans were disrupted due to the stormy winter weather in the northeast.
"I'm sooooooo upset that I couldn't make today's show. We have soooooo much to cover and I miss u DEARLY," she updated her fans on Facebook. "But I'm working on getting a sled if need be....HOT TOPICS CAN'T BE STOPPED...SEE U TUESDAY! I love you all for watching. Xox," she wrote.
What do you think of Wendy's bangin' bikini bod? Tell us your thoughts below.