Revealed: Britney Spears' Waist Digitally Slimmed Down For New Video Clip -- See The Photo Proof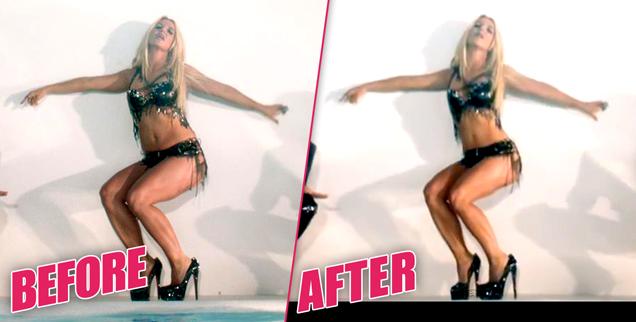 You want a hot body? You better get a good visual effects director, b***h! Ever since Britney Spears' video for "Work B***h" premiered, fans have focused on Spears' seriously slim physique. But newly released images from HOAX Films, the visual effects studio who worked on the video, seem to show that Britney wasn't quite as toned before editing came into play.
HOAX, a visual effects and editing company who also worked on Katy Perry's video for "Part of Me," was hired to complete sky replacement shots, set extensions, and the ambiguously titled "cleanup" for "Work B***h," according to a report on industry website SoundandPicture.com.
Article continues below advertisement
"We are excited to collaborate on such a stunning music video," HOAX FIlms executive producer Alexis Nelson told the site.
HOAX Films creative director Rick Sander added, "Director Ben Mor sets the creative bar very high and raises it with each new video. It's great to be part of the process."
Did that process include making Britney look thinner? Fans wondered aloud on Twitter soon after the video was released.
"Can you photoshop video or does Britney Spears actually look this good?" user @HollyConway asked.
Wrote @MSNLucyMaps, "Finally got to watching Britney's Work BXXch video. My goodness she's hot. Photoshop job or incredible diet & lifestyle plan? Jury's out."
Last week, the studio seemed to cop to some cosmetic work when they released six high-resolution, pre-editing images from the music video shoot that appeared to show a heavier, if still fit, Spears going through her paces on set. HOAX later took down the shots, but RadarOnline.com has them right here for you to compare. (HOAX did not respond to multiple requests for comment.)
This isn't the first time that a video from the "Baby One More Time" singer has been accused of relying on creative editing to make Spears look hot. In 2007, her video for "Piece of Me" was widely panned when the final version showed a much slimmer blonde popstar than the one who had appeared in a previously leaked, unedited version.
Do you think Britney owes her hot body to a good trainer or a good effects worker? Let us know in the comments!