See No Evil, Hear No Evil, Speak No Evil! Despite Marital Crisis With Dean McDermott, Tori Spelling Waxes Romantically In Valentine's Gift Guide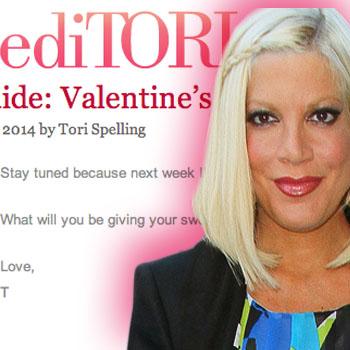 Despite her husband Dean McDermott's recent cheating scandal, and subsequent admission to rehab, it's business as usual for Tori Spelling, who posted a kitschy, Valentine's Day-themed gift guide on her blog Thursday.
"I love giving gifts that are thoughtful, unique, and from the heart," she writes, later asking her readers, "What will you be giving your sweetheart this year?"
And while sources close to the 40-year-old reality star claim Dean's antics has given her plenty of humiliation, you wouldn't know it from the blog, where the former Donna Martin gushes over products like cookies, art prints, books and Mason jar candles.
Article continues below advertisement
As we previously reported, the situation between the couple -- who have four kids (Liam, 6, Stella, 5, Hattie, 2, and Finn, 1) -- had gotten so bleak, Tori demanded Dean, 47, go to rehab to correct his behavioral flaws.
Stay with RadarOnline.com for more Tori Spelling news as it breaks.