'Humiliated' Tori Spelling Dropping Weight Rapidly Over Dean McDermott Cheating Scandal, As She Uncovers His Lies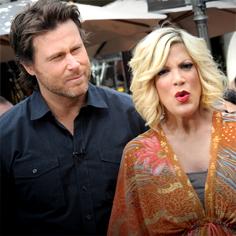 Tori Spelling is in crisis mode over her husband Dean McDermott's cheating scandal, as insiders close to the 40-year-old reality star say she's "humiliated" and "not eating" in the fallout of her husband's extracurricular activities going public.
"She's lost like 10 pounds since the news broke, and everyone's worried about her," an insider told Life&Style of the fallout, after a woman named Emily Goodhand claimed she had had sex with the 47-year-old Dec. 6, while he was working in Toronto. (Insiders told US Weekly that the former 90210 star "looked very thin and tired" at a Jan. 4 outing to a Woodland Hills California ice rink.)
Article continues below advertisement
"Now it has her thinking, 'Was this an isolated incident? Was there more?'" the source told Life&Style.
The paranoia has seeped into the fabric of their marriage, a source told US Weekly, as Tori has taken away Dean's cellphone so she can monitor who he's chatting with.
"They're fighting like cats and dogs; Tori has been tearing into Dean about how embarrassing this all is," an insider told the magazine. "She was caught off-guard, but she knew he was capable of straying."
A McDermott insider said that "Tori is sick of cleaning up Dean's messes," and pointed out that Dean's reaction to the rumors -- or lack thereof -- is a clear tell of his guilt.
"He's totally gone dark," the insider said. "When other stories came out about him cheating, he'd say it's all lies. This time no one has heard from him."
In the meantime, sources tell US, Tori's doing her darndest to be a strong mother for their four children, Liam, Stella, Hattie and Finn.
"Tori is focusing on the kids," the source said. "She's not fighting in front of them and she wants their lives to be normal. She's been doing fun things with them to make sure they're happy."
Stay with RadarOnline.com for more Tori Spelling news as it breaks.