Exclusive
Tito Ortiz 'Partied Hard' And 'Flirted With Models' At Playboy Bash Before DUI Arrest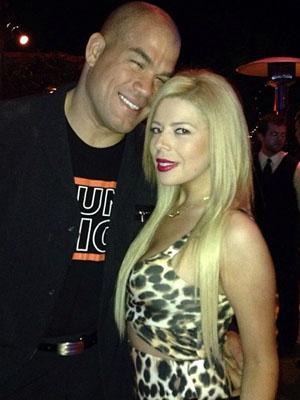 Tito Ortiz was arrested on suspicion of driving under the influence early Monday morning and RadarOnline.com has exclusive details on the raging Playboy Mansion bash he attended beforehand and just how hard he was partying.
While at the IMG party Sunday night, Ortiz, 38, flirted up a storm with all the models, an eyewitness told RadarOnline.com, and was drinking heavily.
"Tito was partying hard, like most people who go to a party at the Playboy Mansion," the source said.
Article continues below advertisement
"He was just having a good time. He flirted a lot with all the models and took a ton of photos with any girl who asked him. He was drinking a lot."
Click here to see photos of Ortiz just before he was arrested for his DUI.
The former UFC champion was arrested by the California Highway Patrol at about 3:50 a.m. on Monday morning after he lost control of his 2012 Porsche Panamera on the 405 freeway and ran into a median.
The CHP stated Ortiz had two passengers in his vehicle at the time but there were no injuries.
According to the Los Angeles County Sheriff's Department, Ortiz posted $15,000 bail and was released at 8:13 a.m.
As RadarOnline.com exclusively reported last November, shocking video footage of Ortiz's ex, Jenna Jameson, in her home allegedly drinking alcohol while her children were present and popping prescription pills was leaked online.
Article continues below advertisement
Jameson, 39, told RadarOnline.com in an exclusive interview that she believed Ortiz — the father of her twin sons — was responsible for leaking the footage in an effort to discredit her mothering abilities.
And earlier in the year when Jameson alleged Ortiz was on drugs, he tweeted a denial saying, "The unfortunate allegations being made against me are simply not true. I would never do anything to jeopardize my family. Being a great father and protecting the well-being of my children remain my top priority."
"Tito definitely shouldn't have been driving last night after seeing him at the Playboy party," the insider told RadarOnline.com.
"He's a nice guy and lots of fun, but he should have made a smarter decision and not driven."