Exclusive
Tearful Jenna Jameson Defends Her Behavior In Private Home Video, Blames Ex Tito Ortiz For Leak: 'He Needs Rehab'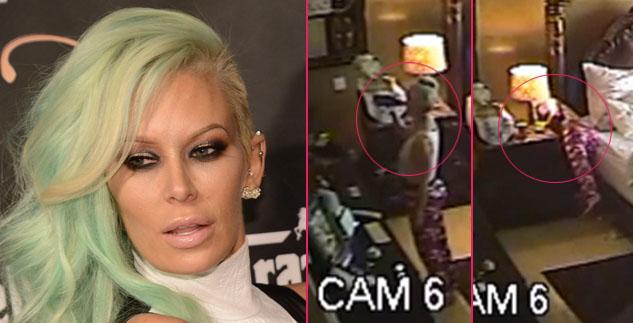 Article continues below advertisement
GALLERY: Top Celebrity Sex Scandals
"I wasn't able to watch the whole thing, but a few of the things actually really made me laugh," Jameson tells RadarOnline.com.
"I'm not talking about him. I don't care about him. He obviously still cares about me."
"Are you saying that you think it was Tito who released this footage?" RadarOnline.com asks.
"Absolutely. He's the only person who has this footage," Jameson responds.
This isn't the first time Jameson has made allegations against Ortiz claiming he uses drugs, but the MMA fighter has always held the stance that the claims are not true.
"The unfortunate allegations being made against me are simply not true," he tweeted earlier this year. "I would never do anything to jeopardize my family. Being a great father and protecting the well-being of my children remain my top priority."
"Let me explain this also. The footage that was taken, I have no idea that there were cameras in the house and then I finally found out through my nanny, she told me. And I was livid. Because it's illegal. You cannot do that. You cannot film someone without them knowing. So I brought a ladder up, and I smashed them."
Article continues below advertisement
When asked about the bottle of wine she appears to keep beside her bedside, Jameson laughs it off claiming it's a bottle of sparkling water.
"That was actually Pellegrino, isn't that funny? It's Pellegrino," she says.
Bikini Babes Bring Their Babies To The Beach!
"And you can actually really tell that it was very edited. It's incredibly edited," she says of the video. "Because the first four years of my children's lives, my ex was up in Big Bear training for fights. I took care of those children. He was never there. Never."
LISTEN TO THE FULL PHONE INTERVIEW BELOW:
https://media.radaronline.com/brand-img/wp-content/0x0/2013/11/jenna-jameson.mp3
Jameson seems surprised when asked why the bottle was hidden beside her bed saying, "Hidden? I kept it right exactly by my bed. I keep water by my bed. I'm dehydrated. I'm a healthy girl, look at my bod!"
Defending herself, and her sobriety, Jameson claims she is not on drugs — but blasts Ortiz by saying he needs rehab treatment.
Article continues below advertisement
Over Exposed! 10 Famous Celebrity Flashers
"The bottom line is that if you talk to me and you look at me and you see me, you understand that I'm not on drugs. I'm a great mother. My children love me. My children need me," she says.
"And I certainly would never, ever, ever…I don't want to hurt Tito because he's their father and those children need him. But he needs rehab."
While Ortiz recently claimed in an interview that Jameson hasn't tried to see their 4-year-old twins in four and a half months, she says it's because he left her high and dry and she's been working hard to get her life back on track and her children back in her arms.
Bikini Wars! Battle Of The Booty
"He took my money, he took my cars, he took my home and he left me without anything. So what I had to do was start completely over. So that's exactly what I did. I went out and I work and I'm making my money. I just bought my brand new car, I have my brand new house coming next week and I will have my children and it will only be probably a couple weeks, because the only person that's taking care of those children is the nanny," she told RadarOnline.com.
Article continues below advertisement
"He didn't even know how to make a bottle. He didn't even help me take them home from the hospital. I don't want to thrash him. The guy obviously doesn't have a lot of brain cells and he's scared I'm going to ruin his career, because that's what he would always say, but maybe if he'd stop crying like a baby and fight like he says he will, then maybe he'd make some money and be able to fight in court and get these kids, because that's what the f**k I'm doing right now."
Jameson also makes accusations of an affair, claiming Ortiz cheated on her during their eight-year relationship.
More Bikini Bloopers! Hollywood's Most Embarrassing Swimsuit Slip-Ups
"I think he released the footage because my show on Entertainment Tonight came out and the show really was focused on my book Sugar and there were a few questions about Tito, and I do not have a problem speaking about him," she said.
Article continues below advertisement
"And I do my very best to be kind to him but it's really starting to get to me because he's starting to post pictures of the woman that he…she was his mistress while we were together for eight years, and now she's living in my home.
"It's not fair to me, but it's just not fair to my children."
22 Toxic Bachelors: Ladies Of Hollywood Beware Of These Leading Men!
Finally, Jameson breaks down into tears talking about her children and her fight to get them back.
"I think it's important that everyone understands that couples go through problems. What matters the most to me are my children. I love them so much, I just, I need them," she says through tears.
"My heart feels ripped out every day, and I want them to be able to see their daddy and I want them to see their mommy. And that's all."
As RadarOnline.com first reported, the footage titled "Someone was always watching Jenna Jameson" can be seen here.