'RHONJ' Star Jacqueline Laurita Like You've Never Seen Her — Before The Boob Job & Botox!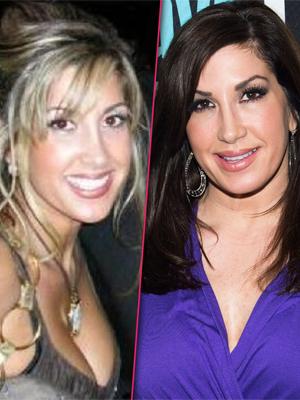 The Real Housewives of New Jersey star Jacqueline Laurita has been very open about her nips and tucks -- and recently shared a rare photo of herself before she EVER went under the knife.
Listen! 'RHOP' star Wendy Osefo breaks down the "most intense fight in the show's history" in under 2 minutes.
In the old photo, Laurita -- who has admitted to having a tummy tuck, neck lift, breast implants and using Botox -- is barely recognizable.
Article continues below advertisement
"Flashback!" Jacqueline captioned the throwback photo.
"Me with lighter hair…. and bangs…. and before Botox and boob reduction."
The mom-of-three openly discussed her procedures with inquiring Twitter fans, adding: "I did my first Botox right before filming season one of RHONJ. Only on my forehead."
Now, her daughter Ashlee Holmes is following in her footsteps.
As RadarOnline.com exclusively reported, Laurita's 23-year-old daughter had Botox injections this week to iron out "wrinkles."
Hollywood Plastic Surgeons Tell All: 42 Stars Who've Had Lipo, Face Lifts & Tummy Tucks
"It was my first time. I just felt that I had try it at least once," Holmes told RadarOnline.com in an exclusive interview.
The beauty treatment will keep her skin wrinkle-free until it wears off in about two or three months, she added.
"It's not like I'm out there telling women, 'Hey, the only way you can be beautiful is by getting all sorts of injections.' I believe that everyone should be comfortable in their own skin. If you can do that without touching your face at all, good for you.
"However, for some people that might mean trying out some new tricks. Everyone needs to relax. So many women much more well known than mehave tried Botox, so it's going to be okay."