Real Housewife Jacqueline Laurita Fesses Up To Going Under The Knife AGAIN -- See Before & After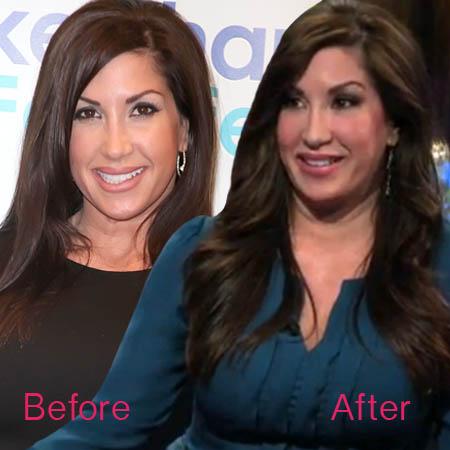 Mom-of-three Jacqueline Laurita secretly had a tummy tuck and neck lift in between Real Housewives of New Jersey seasons, she revealed on a special Watch What Happens Live Sunday night.
The 41-year-old Real Housewives of New Jersey star unveiled the results to host Andy Cohen, before later revealing on Twitter that the two procedures were performed by Brent Moelleken, MD, a plastic and reconstructive cosmetic surgeon who has offices in Beverly Hills and Santa Barbara, Calif.
Article continues below advertisement
She tweeted: "That's right... I said Tummy tuck and Neck lift! Thank you @DrBrentMD!!!XOXO!"
Dr. Moelleken is known for his "Hybrid Tummy Tuck" which is performed through a C-Section type incision and is less invasive.
According to the doctor's website site, the procedure "differs from a traditional tummy tuck in that the incision is very short, approximately the same as for a C-section, rather than a hip-to-hip incision. It is most appropriate for women who are in excellent shape after they have children but are left with a remaining bulge on their abdomen."
In the past, Laurita had confessed to having breast implants and Botox.
Suspicions that Laurita had undergone new antiaging remedies were first aroused in February when she lamented, via Twitter, how "workouts and diets" had failed to put her body back in order after child birth.
"Is there anything wrong with having a Dr. Brent put you back together again?" she wrote.