Exclusive
'Proud' Kim Kardashian Boasting Kanye Is A 'Real Man' -- Unlike Her Ex-Husband Kris Humphries -- After He Allegedly Slugged Vile Teen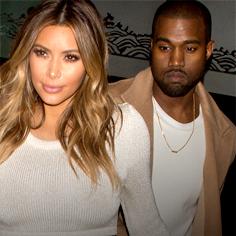 Kim Kardashian is telling pals she's "proud" of her baby daddy Kanye West after he rushed to aid in Beverly Hills, Calif., on Monday, to allegedly slug a foul-mouthed teenager who supposedly made a vile diss at the E! reality star.
The unidentified man is said to have shouted racist and homophobic comments -- "f**k these fa**ot-ass n****rs" -- to the paparazzi pack that was following mother-of-one Kardashian.
Article continues below advertisement
A source close to the Keeping Up with the Kardashians star, 33, told RadarOnline.com that Kardashian was "relieved" that her rapper beau was able to come to her rescue.
"Kim has been telling friends that she is so proud of Kanye, that he really stood up for her when she needed it," said one insider.
As Kardashian called West, 36, on her cell phone, the teenager allegedly shouted, "F**k you b*tch. Just trying to help you. Shut up n****r lover, stupid slut."
When the star's soon-to-be husband arrived at the Beverly Hills location, he proceeded to find the man who was in a chiropractor's office and allegedly punched him.
He is now being investigated for felony battery, a law enforcement source told Radar.
"Kim loves that her man is protecting her," the original source said. "Unlike Kris Humphries, whom she never felt had her back, Kim is telling people that Kanye is a real man."