Exclusive
Porsha Stewart Talks Reconciliation With Kenya Moore: 'The Turmoil Between Us Comes And Goes — We're Not Close Friends'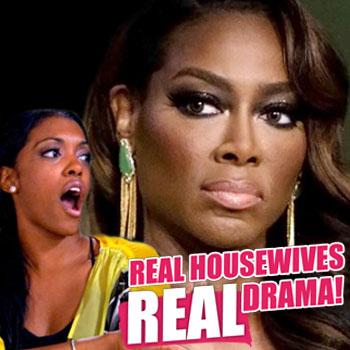 Article continues below advertisement
And when asked to describe her current relationship with Moore, Stewart said, "Well we're not close friends at all so you would have to ask whoever her friends are."
"Porsha is an embarrassment to her grandfather, his legacy, her family, and most importantly, herself," Moore vented of Stewart's Underground Railroad flub, whose late grandfather, Hosea Williams, was a prominent civil rights activist in Atlanta.
"It's easy to laugh and call her dumb, but the reality is even more painful – WE have failed her. Our educational system has failed her, anyone who coddled her or encouraged her to focus on her makeup, weave, and shoes to find a man to take care of her rather than her education has failed her. Anyone laughing at this gross ignorance has failed her."
Stewart isn't the only cast member to be blasted by Moore, who also slammed Phaedra Parks calling her fake.
"I have never seen any genuine emotion from Phaedra — no tears, no anger, no pain… even when her child was born she's never exhibited any vulnerability whatsoever," Moore wrote last month on her Bravo blog.
"I've only seen her make snide behind-the-back remarks and a slew of hateful lies… All reasons why it's easy to say she is fake."
--- Interview by Lindsey DiMattina
Do you think Moore is the cause of all the drama on the show? Sound off in comments below...