Porsha Stewart 'Happy' Ex-Husband Kordell Is Dating Towonda Braxton, Explains Underground Railroad Flub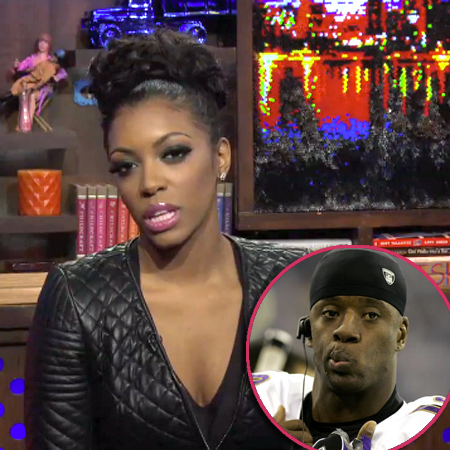 Article continues below advertisement
It was a shocking turnabout after, as RadarOnline.com has reported, Porsha rocked The Real Housewives of Atlanta this season by throwing gay rumors Kordell's way.
She even said on the show that she couldn't get pregnant because he sexually neglected her during their marriage.
But on Cohen's Sunday talkfest, Porsha couldn't have been nicer when speaking about her ex.
When a fan asked what prompted her to reach out to Kordell while she was on a bonding trip with the other housewives in Savannah, Georgia, Porsha said, "As you could see, that was a very sensitive time for everybody. It was so emotional and I was in the middle of the divorce at that moment and I hadn't spoken to him at all.
"It felt like the attorneys were in between us and I hadn't gotten a chance to actually talk to him so me wanting to make sure I did everything I could before I left the marriage, I decided to just put on my big girl panties and reach out and try to contact him."
Since the show has been airing, Porsha said, she'd spoken to Kordell a couple of times before the divorce was finalized.
Cohen wanted to know how Kordell felt about her scandalous comments about him, and Porsha appeared to indicate that viewers might see him again on RHOA this season.
Article continues below advertisement
"I expressed myself on the show. He came back on the show -- which he said he would never do -- and he expressed himself and that's good for him because that way he can get it out and we can kind of move on from it."
And Porsha is moving on ... up!
Watch the video on RadarOnline.com
On Sunday's RHOA episode, it was revealed that she had bought a fabulous six bedroom, 8,000 square foot house in Atlanta to begin her single life.
MORE ON:
Watch What Happens Live
When a caller to Cohen's show asked why -- and how on earth she could afford it, Porsha babbled, "Because I'm fabulous and I want to keep the fabulousity going. I jumped out there. I believe in me and if you don't believe in yourself, who will? So, honey, I jumped out there and am getting my coins and you have to keep watching and see if I end up making it work."
Meanwhile, Porsha also revealed while she's smoothed things over with Kordell, things aren't easy between her and co-star Kenya Moore.
Article continues below advertisement
"Kenya and my relationship is so-so. As you could see on the last episode, everybody opened up and I feel like I saw a little bit of the real Kenya and she probably got to know me a little bit more and you just have to keep watching to see if it stayed that way but I can definitely say it is a roller coaster relationship."
Porsha also opened up to Cohen about the controversy that ensued after she indicated on the show that she believed the famed African American underground railroad was an actual train.
Porsha comically justified her apparent stupidity, telling Cohen, "First I'd like to say when I watched that I realized that was another Porsha moment, a little airy there, just a brain lapse."
Watch the video on RadarOnline.com
Her grandfather was civil rights leader Hosea Williams, and Porsha admitted, "I felt I definitely needed to correct that, even for myself.
"I went back and I just brushed up on what I already know. That's a very sensitive topic for me ...so I went back and I read up on the underground railroad and everything else because I do want to represent that part of my life and my legacy better than I did."
When asked if she actually believed it was a train, Porsha said, "At that moment, we were all trying to figure something out and my brain was going so fast.
"It was just going faster than I was speaking so I literally just I couldn't get it together at that moment. I went back and made sure I got my facts together."