Exclusive
Paris Jackson & Grandmother Katherine At Loggerheads: Teenager Fighting Return To Utah Boarding School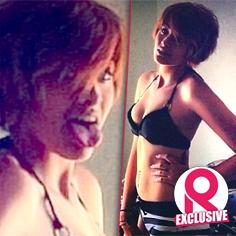 Paris Jackson has told family members she does not want to return to the Utah boarding school where she has been receiving treatment since her suicide attempt in June, RadarOnline.com has been told.
The troubled teenage daughter of late pop star Michael Jackson is at loggerheads with her co-guardian, family matriarch Katherine Jackson, who is forcing her to return to the therapeutic boarding school after spending a vacation in Hawaii and California over Christmas.
Article continues below advertisement
The source said Paris, 15, is "acting like any other teenager... she just wants to be with her friends."
"She hadn't seen them since last summer," the insider added.
A major bone of contention: Katherine, 83, is extremely upset that Paris had access to a cell phone while in Hawaii and was able to post pictures of herself on social media — these scantily-clad images which have stolen a march in cyberspace.
As RadarOnline.com previously reported, Paris' biological mother, Debbie Rowe, also spent time with her daughter during the holidays.
Paris has been making gradual steps to recovery from her June 5 suicide attempt: Last month, RadarOnline.com revealed, the teen was through the major part of her rehab treatment.
However, despite all the progress Paris has made, "there is still a lot of work that needs to be done."
Said the source: "Paris might not see this, but she isn't ready to leave the safe confines of the Utah boarding school. There is a lot of support that Paris gets there and Katherine recognizes that. There is no question, Paris will be going back to Utah this weekend."