North Korea Horror: Kim Jong Un's Executed Uncle Was Reportedly Eaten Alive By 120 Hungry Dogs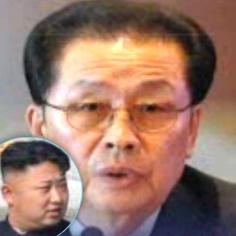 North Korea leader Kim Jong Un's powerful uncle was reportedly stripped naked, thrown into a cage and eaten alive by a pack of ravenous dogs, according to a newspaper with close ties to China's ruling Communist Party.
North Korea announced that the country executed Jang Song Thaek calling him a "traitor to the nation for all ages."
The North Korean account on Dec. 12 did not specify how Jang was put to death -- but according to the Hong Kong-based pro-Beijing newspaper Wen Wei Po, Jang and his five closest aides were set upon by 120 hunting hounds which had been starved for five days.
Article continues below advertisement
Kim and his brother Kim Jong Chol supposedly supervised the one-hour ordeal along with 300 other officials. The newspaper added that Jang and other aides were "completely eaten up."
The communist country has said that Jang Song Thaek, who for years was a mentor to the young leader, was accused of leading a "dissolute and depraved life" and had committed crimes including gambling, drug use, womanizing and corruption.
In last month's reports, North Korea stated Jang was a "despicable human scum," who was "worse than a dog," and that he confessed to his crimes in front of a military Tribunal.
The state news agency KCNA said his crimes also included "attempting to overthrow the state by all sorts of intrigues and despicable methods with a wild ambition to grab the supreme power of our party and state."
Jang was married to Kim Kyong Hui, the younger sister of Kim Jong Un's father.
There have been a series of executions in the country recently, including Kim Jong Un's ex-girlfriend and 11 others in front of a firing squad.