Exclusive
Drowning In Debt! 'Baywatch' Star Nicole Eggert Files For Bankruptcy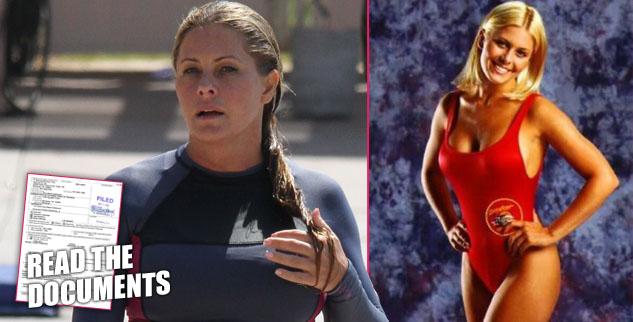 Someone throw Nicole Eggert a financial lifeline! RadarOnline.com has exclusively learned that the former Baywatch beauty and Splash star filed for Chapter 13 bankruptcy on September 10, 2013 -- her third such attempt in less than a year.
Both of Eggert's previous filings were dismissed, so will the third time be a charm? This time around, she listed her total assets as $1,076,400, according to court documents obtained by RadarOnline.com: That includes a home in Valley Village, CA, worth about $870,000, $400 in her personal checking account, $65,000 in her business account, $5,000 in furniture, $500 in clothing, a SAG pension worth $130,000, and a 2008 VW Passat listed in her mother's name. Eggert says she makes about $15,416 each month, and earned $7,000 in residuals last year. She also gets $766 per month in child support.
Article continues below advertisement
At the same time, however, she claims to spend $2,000 per month in management fees, according to the documents, and $3,000 per month in child care. In total, she claims her expenditures per month are $15,952.24, and that her total current liabilities add up to $807,115. After expenses, she has just $795.76 per month to live on, she says.
Because of all these pending debts, the records reveal, Eggert recently fell $60,000 in arrears on her home, and filed documents asking the court to let her keep it.
MORE ON:
Celebrity Justice
In response, a federal judge has agreed to a plan by which she will pay $1,071.43 per month to the bank for her house, and $800 a month for 12 months to her creditors. After that first year, she'll have to shell out $1,320 per month for 48 months until a grand total of $72,960 is paid off.
The case will remain open until all of her outstanding debts are resolved. Stay tuned to RadarOnline.com for the latest on her financial troubles.