Nice Tae Meit Ye! Canadian Woman Begins Talking With Scottish Accent After Falling Off Horse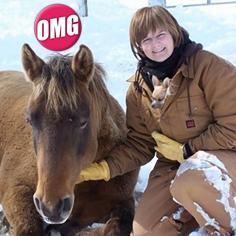 Meet Sharon Campbell-Rayment.
The Ontario, Canada native, 50, was diagnosed with a concussion after she fell off a horse in 2008. The next morning, she suddenly began stuttering, and subsequently speaking with a Scottish affect after the fall -- even using Scot phrases such as "wee" and "awright" in her statements.
Upon examining the woman, doctors linked her symptoms to a scarce foreign-accent syndrome, which has impacted just 60 people worldwide, most in connection with brain injuries.
Article continues below advertisement
"It's been like starting all over again. I'm a completely different person."