Exclusive
Sex Parties, Strippers & Flavored Condoms: 'Secret' Girlfriend Tells All About Sex Parties At NFL Star Michael Vick's Mansion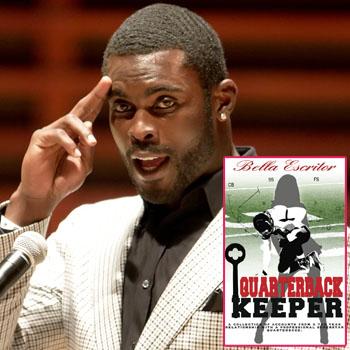 NFL star Michael Vick was thrust into the spotlight when federal agents discovered more than 70 dogs on his 15-acre property, the apparent breeding grounds for an undercover dog-fighting ring. He served nearly two years for that crime, but RadarOnline.com has exclusively learned that that wasn't the only illicit behavior going on at Vick's home. In a new tell-all, Vick's self-described "secret girlfriend" blows the lid off the X-rated happenings at his Atlanta home: voyeuristic orgies, exotic dancing, secret affairs and more.
Article continues below advertisement
Vick's "secret girlfriend' of more than ten years describes her time with the NFL star in her new book, Quarterback Keeper, as first reported by Radar. Writing under the nom de plume "Bella Escritor" she blows the lid off of some of his dirtiest secrets in the new, never-before-seen final manuscript.
Vick and the author first met when she was working at a strip club. She recalls, "He said only one word, 'dance,' and that's exactly what I did … Vick appeared to take it all in like a child in a candy store for the very first time." At the end of the night, Escritor claims, she left the club with him, and they had sex for the first time at his Atlanta home -- although he was already in a relationship.
For the next ten years, she claims, they would have countless other hookups -- always using flavored condoms. Despite that precaution, Escritor admits to being nervous when she first heard the news, in 2010, that Vick was being sued by a rumored hookup who claimed he had given her herpes.
"Although I had practiced safe sex with Vick, I was still concerned that I could have accidentally made some kind of skin-to-skin contact," she explains. "…I rushed to my doctor to have lab work performed and eagerly awaited the rapid results of my blood work and cultures. Although the initial physical exam revealed nothing, I was still nervous as hell about what was to come …"
Article continues below advertisement
And when she confronted the NFL star, he didn't exactly put her mind at ease. "When I asked him, Vick told me that he did know the girl in question," Escritor reveals. "He went on to say that they did have sex more than once, but that he practiced safe sex each time." In addition, she says, he insisted he didn't have herpes at all, anyways.
Thankfully, she says, her tests came back clean. But in the meantime, it made it difficult for her to dance for customers who suspected she had been infected. As for Vick, he eventually settled with his accuser, despite maintaining his innocence.
Escritor claims, "He said they had something on him that was much bigger than any herpes story. Therefore, he said that he just decided to let her have the hush money." Two years later, his dogfighting scandal would come to light.
Escritor had stood by Vick as he weathered another media scandal a few years before, when an online report -- complete with fabricated confessions from the NFL star -- claimed he was gay.
Article continues below advertisement
The first time she saw the report, she writes, "I started laughing at first, because I knew damn well after being with him sexually for quite some time now that this man seemed far from gay." She says she got her confirmation when she saw Vick making faces at a local R&B singer's music video on TV.
"I'm like, 'What's wrong? You don't like him?'" she remembers. "He says, 'Hell naw.' He said that the guy was staring at him all weird and sh*t when he did that music video with a local rapper. He went on to say that he, himself, wasn't gay, and he didn't like being stared at by that man … So that right there, to me, solved the mystery of 'Vick Gay?'"
Still, she admits, "It seemed Vick needed to prove to the world in some kind of way that he liked women."
On any given night, she claims, any number of women could be brought back to his house to have sex with his friends.
"Once we returned to his house, we would separate and watch the others partake in sex sessions throughout the mansion," she claims. "Vick and I would sometimes crawl on the floors and sneak into people's bedrooms together and watch them having sex."
Article continues below advertisement
If they were caught, she says, "we would then get up and run out of there fast as hell … we would usually end the night together alone in Vick's room."
Some years later, however, the relationship came to an end when Vick's other woman contacted Escritor, who had assumed her affair with Vick was common knowledge. In a series of girl-to-girl phone calls and texts, she says she told his main girl every detail of her secret affair, and decided then and there to end it once and for all.
Escritor admits, "I knew it was over for Vick and me the moment I decided to talk woman-to-woman with his other girl. Somehow I felt a sense of relief … It was finally time for me to get back to my life and making myself a priority again."
"I still deeply cared about him, and I always will," she continues, "but I am now thankful to be living out my own life, relationships, and dreams. I don't regret for a minute ever having met Vick. Would I do it all over again? Well, that's another story."