Exclusive
'I'm Just Soaking Up This Whole Experience,' Moans Dog-fighting Quarterback Michael Vick, In Jailhouse Letter To Lover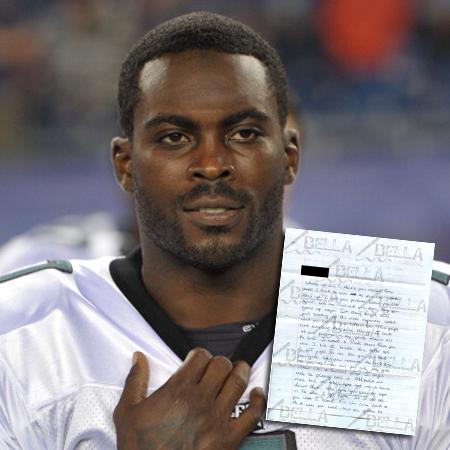 Dog-fighting NFL star Michael Vick wrote streamy letters to his secret lover while imprisoned in a Kansas City jail -- telling her he wanted a "freak show when I hit the bricks," apparent slang for his eventual release.
Vick, who confessed to running a dog fighting ring five-and-a-half years ago, also complained that his letters were being read inside prison and bemoaned that he would no longer be playing football for the Atlanta Falcons, who selected him at pick number one in the 2001 NFL Draft.
Article continues below advertisement
In the sexually-charged letters, Vick told how he looked at photos of the woman while in his cell, asked her to send "see through shots" and also pleaded with her to fill out the necessary paperwork so she could visit him at Leavenworth, a federal prison.
The 33-year-old wrote: "I got your pictures. Damn you look good. Let me find out you done step your game up major.
"I look at your pictures in my photo album all the time. I want a freak show from hone I got the bricks. You better set it off right for me, too. Can you remember the last time?"
In another, he penned: "You look cute as hell on your pic you sent me. Why was it so small though. Man blow that joint up so I can see al of you. Sh*t I miss you a**."
Vick's letters, sent to Bella Escritor, are postmarked from inmate No. 33765-183 -- Vick's identification. She provided them to RadarOnline.com to support her claim of a clandestine 10-year relationship with the Philadelphia Eagles star.
Article continues below advertisement
Escritor -- that's a nom de plume -- is documenting her story in a new, tell-all book about Vick, titled Quarterback Keeper, as RadarOnline.com previously revealed. She is attempting to raise funds via Kickstarter to publish it.
Writing to his pen pal on Feb. 11, 2008, Vick hinted at some self-pity as he noted, "I'm doing alright. Still just soaking up this whole experience."
He added, "I might not be playing ball in Atlanta anymore but I'm still gone get me a house down there. You gone get you an apt apartment in VA Virginia when I get home so I can you when I want.
"You can come back to A Atlanta when you want, but you gotta be there for me. We'll work that out as time goes on."
He signed off the missive, "Take care of your body yo. Halla at me. Your boy 4 life! I'll neva sic forget about you kid!"
In another letter, he wrote how time start was starting to pass.
"I'll be home soon fa sic real. As soon as I touch down, I'm sending you a ticket to Va. You know what is is nah mean. I'm still waiting for them to add your number to my phone list. The system mad slow yo."
Article continues below advertisement
He also sent a letter on Valentine's Day and scribbled his jersey number seven on the card.
Vick married his longtime girlfriend, Kijafa Frink, in 2012.
According to Escritor, Kijafa knew of her relationship with Vick because she'd been "informed that she knew of me as well and she was ok with it all -- otherwise I would not have proceeded with the relationship."
"It was only years later that I found out that was not the case," the woman said.
"In the book, you will find out that Kijafa and I engaged in conversations towards the end. The book is not a sexual tell-all, nor is the intent of the book to bash Mike in any way.
"But I was there for scandals, games, road trips, parties, etc...These are things and experiences I know that have not yet been shared with the rest of the world. People assume I'm a groupie, mistress, or just plain out to hurt Mike. None of that is true."