A Luxury Yacht, Sushi Feast & Lots Of PDA: Inside Madonna & Boy Toy's European Love Tour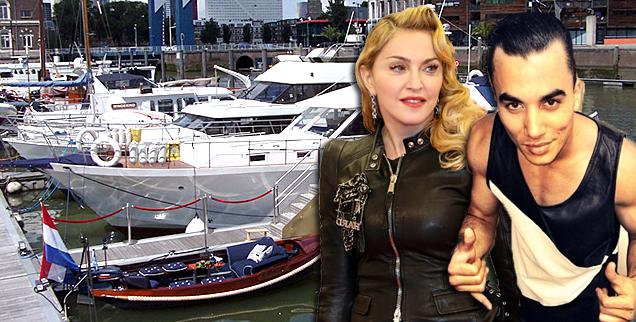 Article continues below advertisement
Owner Willem Post told local media that he only knew he had a superstar among his guests when she came to breakfast. "A blonde woman in an expensive bathrobe and a young guy came to the table," he explained. "…When I realized it was Madonna, I pretended I didn't recognize her. I only spoke with her briefly. She found Rotterdam a beautiful city with unique architecture and was interested in the history of the ship."
Madonna "came in with her hood up and a thick jacket, so I did not recognize her," a waitress there, Eileen, told local media. "But then I saw Timor, and I though, oh that must be Madonna." Staff seated them in a back corner for more privacy, and Eileen said, "they had a really good time."
Article continues below advertisement
Another restaurant worker, Wing Sai, said, "They were very cozy together, held hands" and even kissed at the table.
According to local reports, they spent the night at the nearby Hotel New York and Madonna left by private jet the next day.
Unfortunately, it seems, she didn't make time during her visit to meet Timor's mother, who lives in the city. But the Dutch woman spoke out anyways, telling RTL she believes her son and the Material Girl will go the distance.