Kris Jenner Slams 'Fake' Claims About Family Reality Show, Says 90% Of Criticism Is 'BS'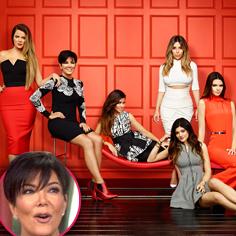 Article continues below advertisement
They Really Did Say It! 50 Outrageous Kardashian Quotes
"After a while some things just get to you. 90% of it is more or less BS," she told Carson Daly.
As for her split from Bruce Jenner after more than two decades of marriage, she admitted "it's kind of shocking" to tell people it was over, even though it had been widely reported and they were living apart, but that their relationship is stronger than ever.
"We're best friends. We talk all the time and right now we're just happier the way that we are right now. Life is normal except we're living in two different houses."
Kris gushed about having Kim Kardashian, Kanye West and baby North living with her, saying: "That's kind of a treat. It's exciting to watch her grow up and make all these changes."
And she revealed that daughter Khloe Kardashian's divorce from Lamar Odom is a sad situation.
"It's always tough when one of your kids goes through something like this. My heart always is with them 150 percent. Khloe, it's been tough what she's been going through but we're just doing the best we can."
Visit NBCNews.com for breaking news, world news, and news about the economy