Exclusive
Judgment Day For 'Survivor' Producer: Bruce Beresford-Redman Judge 'Could Rule In 48 Hours' If He Murdered Wife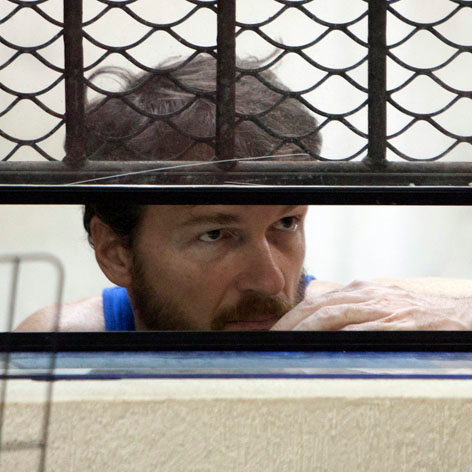 The "frustrated" television producer husband of a Hollywood woman who stands accused of her brutal killing in Mexico has waived his right to testify in his defense, RadarOnline.com has learned.
Bruce Beresford-Redman, a former staffer on Survivor and the co-creator and executive producer of MTV's Pimp My Ride, had wanted to speak to the judge in open court and protest his innocence over the 2010 death of his wife Monica, but after being told a judge wanted to take a vacation first, he became "upset" and "demanded that the judge rule immediately, handing down a verdict based on what has been revealed in court thus far," a spokesman for his legal team told Radar.
Article continues below advertisement
"The Court... indicated that the judge was going to take a two week vacation when looking at the calendar before Bruce could testify in his defense," the representative said, of the Jan. 10 hearing in Cancun, Mexico.
"It would be another month after that that they would schedule Bruce's testimony/statement. Frustrated and upset by idea that he would have to wait for another long delay as he has for over two years while proceedings have dragged on, Bruce had his attorney say that he didn't need to make his "declaration" and demanded that the judge rule immediately, handing down a verdict based on what has been revealed in court thus far.
"He did not want to wait any longer. While Bruce was eager to defend himself, he knew that there had been no evidence linking him to the murder and he wanted to have the judge rule."
Beresford-Redman's decision could mean the judge rules on the protracted case within 48 hours.
However, the spokesman warned, "the judge could put off anything for any reason. Their system does not resemble our system in any way. In this trial many delays have caused it to last nearly two years... Meanwhile, Bruce has been sitting in a prison cell since he was extradited and he has deteriorated from the stress and lack of adequate food. He's lost 25 pounds."
Article continues below advertisement
The reality television producer was jailed in November 2010 on a fugitive warrant issued after Mexican authorities in Cancun charged him with the aggravated homicide of his wife, whose naked body was found in April of that year in a hotel sewer at a luxurious Cancun resort.
Hotel guests reported hearing screams and loud bangs coming from the couple's hotel room and officials later cited "asphyxiation by suffocation" as the cause of her death.
Article continues below advertisement
These points included several observations but the key points were as follows:1. There was no credible evidence that indicated, as had been reported widely before, that Bruce's wife, Monica, was asphyxiated (choked). Monica had a large gash in the face from a pipe or weapon which was, in this expert's view, the murder weapon.
2. There was no credible evidence that Monica was caused by a fight with Bruce Beresford-Redma as had been reported in press accounts before.
3. There was no credible evidence that the homicide occurred in their hotel room, as had been reported before. No blood from Monica Beresford-Redma was found in the hotel room.
4. This point deals with the legal term "lividity". There was no indication, in the expert's opinion, that Monica's body was moved after she was killed and the blood settled in her body. That goes to the question of whether or not she was killed in their hotel room and Bruce later carried her to the cistern on the premises of the Moon Palace Hotel.
5. This expert found no credible evidence to support the police report that Bruce "participated in her death in any way." This is consistent with another prosecution expert's testimony.
6. Finally, the Court-appointed expert rejected the testimony of the prosecution's expert that Bruce Beresford-Redma had any participation in the homicide.
Cancun prosecutors reportedly want the trial to continue and despite the expert testimony, believe "there are elements pointing to Bruce Beresford-Redman's guilt."