Exclusive
You're A Hypocrite, Ke$ha: Animal Cruelty 'Crusader' Was Secretly Detained By Homeland Security After Bringing Illegal Ivory Into US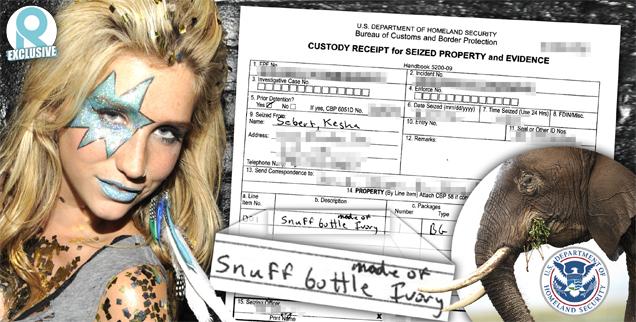 Article continues below advertisement
Ke$ha, 26, who is currently being treated for an eating disorder and battle with booze at a rehab facility in Illinois, faced a customs interrogation over the mystery item when she landed around 11.30 a.m on that day.
Homeland Security later identified it as a "snuff bottle made of ivory" and valued it at $500, the paperwork reveals.
What's more, a member of Ke$ha's team was also detained in a separate incident two days earlier, it can be revealed, after she was discovered having "possible ivory" in her possession.
Vegetarian Ke$ha's decision to bring the ivory into the United States flies in the face of the animal welfare groups she has long supported who have fought for decades to combat wildlife trafficking.
Just months before the ivory incident, the singer — who has sold 57 million records worldwide — was lauded as a crusader by the Humane Society International for "taking her concern for our fellow creatures and putting it to work" when being anointed to the role as an ambassador.
Article continues below advertisement
"Her goal is to help Humane Society International promote respect, protection and compassion for animals around the world," the organization declared.
Said the organization's vice-president Kitty Block, at the time: "We believe empathy for animals is a basic human condition that needs to be encouraged and celebrated. Ke$ha, with her interest in our cause and international recognition, is in a unique position to help us promote a global culture of compassion for animals."
Even Ke$ha boasted: "I believe that together, we can change laws that allow innocent animals to be unjustly mistreated and abused all over the world."
Two months later, despite declaring she was "inspired by the freedom and primal beauty of animals," the "Timber" hit-maker was caught red handed with the illegal ivory in her possession.
The revelation is a major blow to the Humane Society International and People For The Ethical Treatment of Animals, or PETA, who has used the star as a poster child for a series of their campaigns.
Article continues below advertisement
In one drive, in 2011, Ke$ha teamed up with PETA to blast seal slaughter in Canada as "barbaric and archaic."
When confronted with the bombshell, the Humane Society immediately sought an explanation from Ke$ha who claimed she mistakenly purchased the snuff bottle, unaware of what it was made from.
"Ke$ha apparently bought a piece of jewelry at a thrift shop and was unaware it was ivory," Michelle Cho, the Vice President of The Humane Society of the United States, told Radar.
"It is not uncommon for even the most dedicated animal lover to mistakenly buy ivory when they think it's another material. Ke$ha, like other animal advocates, assures us she would never knowingly contribute to such a gruesome industry."
But our exposé of Ke$ha's hypocrisy could also not come at a worse time: According to the World Wildlife Fund, the illegal ivory trade suffered an unprecedented spike in 2011, threatening to overturn decades of conservation gains.
Ivory estimated to weigh more than 23 metric tons — a figure that represents 2,500 elephants — was seized in the 13 largest seizures of illegal ivory in 2011, the organization reported.
Said Cho: "African elephant poaching has reached crisis levels. Every single day, 100 African elephants are slaughtered for their tusks with more than 35,000 were killed in 2013 alone. The Humane Society of the United States and Humane Society International are on the frontlines combatting this grisly trade and has resources available to help consumers be on the lookout and not buy wildlife products."