Exclusive
More 'Duck Dynasty' Fakery Exposed! Read The Secret Casting Email As Producers Searched For Bearded Male Actors!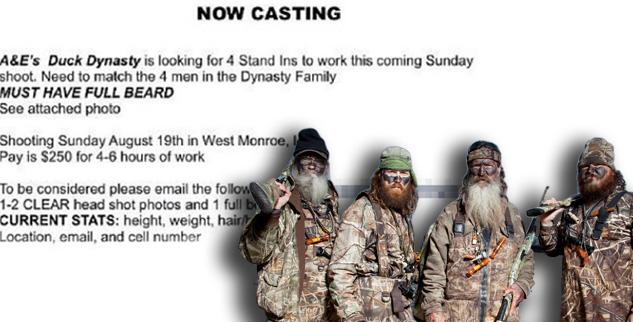 Article continues below advertisement
"A&E's Duck Dynasty is looking for 4 Stand Ins to work this coming Sunday in a … shoot," the email, from BAM Casting in Louisiana, reads. "Need to match the 4 men in the Dynasty Family. MUST HAVE FULL BEARD."
The shoot, set to take place on August 19 in the family's hometown of West Monroe, Louisiana, would last four to six hours and pay $250, the email claims.
The casting director specifies that producers are looking for stand-ins, or people who work to help lighting and filming directors set up a scene before the stars arrive, stand on their marks, and say their dialog.
The fact that the show has used stand-ins offers a glimpse into their filming process, which clearly is not an off-the-cuff glimpse at the family's reality, but a carefully-orchestrated television production, where scenes of "reality" may be prepared by producers, cameramen, lighting experts, and more.
As the show has grown, so has the behind-the-scenes subterfuge, says the source, who originally received this casting email in 2012. According to the source, even bystanders in public scenes are hired by casting directors!
"They no longer have open casting calls for extras for public scenes on the show because the show is too popular," the source, a local actor, tells RadarOnline.com exclusively. "Most people booked with the show are now actors, working with agents exclusively."
In the past, however, the source says that casting directors did send emails looking for extras.
Are you surprised to learn that scenes on Duck Dynasty are set up beforehand with stand-ins? Or that the "locals" in some scenes are hired actors? Let us know in the comments!