Cynthia Bailey Apologizes For Apollo Nida Fight On 'WWHL,' Says 'It Just Ended Up Going Crazy'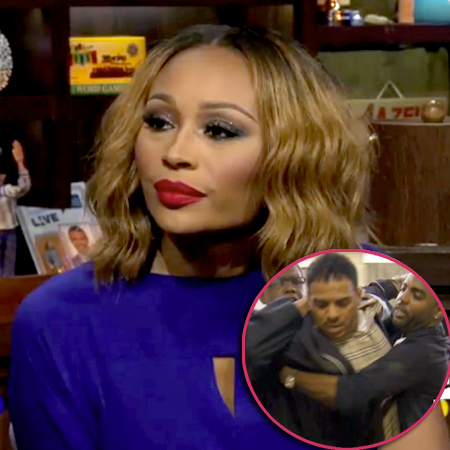 Article continues below advertisement
"I didn't like it. I didn't think it was a good look, and it was unfortunate because we were having a really great time until the fight."
On the episode, NeNe Leakes had a pillow talk couples relationship get together with the housewives and their men. Kenya, one of the single gals in the group, brought her assistant and friend, Brandon.
After Kenya got involved in a shouting match with R & B singer Christopher Williams and his wife, Natalie, and Christopher grabbed the RHOA beauty queen, Brandon charged at him--and all hell broke loose!
Apollo then jumped in and attacked Brandon, beating him badly.
Cynthia told Andy, "I don't want to blame everything on Kenya, but once she actually got up, that made Brandon get up and once Brandon got up ... people were getting aggressive."
The model agency owner also wanted viewers to know that despite how it looked on camera, her husband Peter Thomas wasn't part of the fight.
"When I looked at the tape ... I was surprised how it looked like Peter was actually a big part of the fight but he wasn't," she claimed. "One of the things Peter was very instrumental in doing was actually breaking up the fight. He was trying to keep Brandon down because Brandon was trying to get to Christopher and then we thought Apollo jumped in to help -- and then it just ended up going crazy."
Article continues below advertisement
Cynthia didn't think NeNe Leakes helped instigate the fight.
"I will say the whole purpose of the pillow talk thing was to put everything on the table," she said. "It was going fine until the fight started."
Meanwhile, Cynthia admitted she shouldn't have brought up Natalie's past to the other RHOA women -- which, in part, led to the big fracas later.
"I was being a little messy and I do regret that I ever even brought it up," she said.
But the one who's in the biggest hot water is Apollo -- and it's not just for what's been seen on camera!
As RadarOnline.com has reported, just this week, Apollo was accused of bank fraud and identity theft.
Cynthia said on Sunday night that she hadn't spoken with her friend Phaedra about the shocking charges against her husband.
"I read about it. I don't like to call people when I hear bad news. I think Peter did speak to Apollo, though, earlier today and he said they were taking care of everything. Hopefully everything will work out."
Article continues below advertisement
Watch the video on RadarOnline.com
Cynthia also updated fans about her relationship with Peter, which has seen troubled times this season: "Our sex life is a lot better than it was before I had my fibroid procedure."
Cynthia was joined on the talk show by LaLa Anthony, who is the wife of New York Knicks basketball star Carmelo Anthony--and a close friend of Kim Kardashian and Kanye West.
LaLa, who has written an advice book for women called The Love Playbook, revealed to Andy that "Kanye definitely wears the pants, as he should!"
She also said she'd be in the wedding of her other close pal, Kelly Rowland. But didn't let anything slip about Kim and Kanye's!
Carmelo Anthony's basketball wife also made an embarrassing faux pas when talking about how her man would like to keep playing for New York.
"He wants to stay," she said. "I support him wherever he wants to go. Listen, I used to live in Denver with him. If I could live in Denver, I could live anywhere. I just want him to be happy."
Cohen cracked, "Hello, Denver!"
LaLa then apologized, "Oh, my God! I'm sorry! I didn't mean it that way! I just meant, it's always snowing and if you don't ski ... you know what I meant!"