Fed Up! 'RHOBH' Star Carlton Gebbia Blasts Kyle Richards: Nothing Out Of Her Mouth Is 'Honest or Authentic'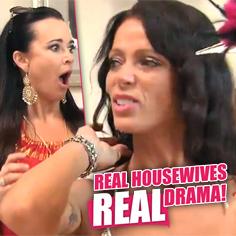 The Real Housewives Of Beverly Hills star Carlton Gebbia is taking yet another swipe at castmate Kyle Richards, revealing that she's fed up with her two-faced behavior.
"The systematic disrespect from Kyle is extremely calculated, and if it isn't obvious to some of you, why not take a look at her behavior," Gebbia wrote on her Bravo blog.
Referring to her castmate's inquisitive attitude toward her background in witchcraft, Gebbia accused Richards of trying to stir up drama.
Article continues below advertisement
"She's known from day one what my religion is and consistently goads me," the Wiccan wrote.
During Monday's episode, Richards offended Gebbia when she confused her pentagram tattoo for the Jewish Star of David.
Gebbia snapped: "Are you f--king kidding me?!"
"She's always accused me of having preconceived ideas about her when I entered this lair, but this is a classic example of transference. Seems she was the one with the preconceived notions before I ever met her, then lying in her pathetic way asking 'innocent' questions about my beliefs."
Gebbia said the misconception with her castmates regarding her witchcraft is that there's this evil witchery going on, and it's completely the opposite.
"She may play the dumb, innocent victim with people, but I saw her for who she really is from day one. She exists in a make believe world and believes her own hype.
"Nothing that comes out of her mouth is honest or authentic," Gebbia slammed her co-star in one final dig.
Are you Team Kyle Richards or Team Carlton Gebbia?