90210 Rumble: Carlton Gebbia Attacks Costar Joyce Giraud, Declares She's 'Self-Righteous' & Has 'Delusions of Grandeur'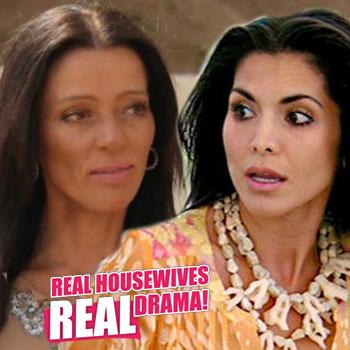 It's no secret that Carlton Gebbia is Team Brandi Glanville.
Now, she's throwing even more shade at Joyce Giraud after the ladies' squabble at SUR during this week's episode.
"Joyce's self-righteous talking head, 'If God could forgive what humanity did to his son, who am I not to forgive Brandi for being such a stupid little bi--h!'" Carlton wrote on her Bravo blog.
"You are off your sanctimonious rocker, lady," Carlton continues about Joyce.
Article continues below advertisement
"Did you just compare yourself to God? Talk about delusions of grandeur!"
On Monday's episode of The Real Housewives of Beverly Hills, Brandi squabbled with Joyce and went on an F-bomb filled rant before fleeing the party in tears. Yolanda Foster appeared to be the only one who understood the "devastating time" Brandi was going through and got her out of the volatile situation.
"The tail end of the SUR dinner was sad to see Brandi so distressed after having to deal with the tag team of Joyce and her husband both going at her simultaneously.
"But I will say that Yolanda handled it in such an admirable way getting Brandi out of a potentially uglier situation," Joyce added.
Are you Team Brandi or Team Joyce? Tell us in the comments below!