Sarah Silverman Gushes Over Brandi Glanville; Recalls How She Once Bleeped Eddie Cibrian 'In A Movie'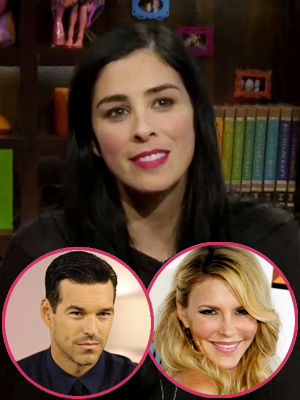 Sarah Silverman says if she had to be any of Bravo's Real Housewives, it'd be Brandi Glanville.
The comedienne, appearing on Wednesday's Watch What Happens Live was posed the question during the after-show, and while she could could not identify Brandi by name at first -- she called her "the one that was cheated on by Eddie Cibrian" -- she sure seems to be buying what the controversy magnet of the 90210 is selling.
Article continues below advertisement
After apologizing for the faux pas, Silverman said Cibrian "does not define Glanville in any way!
"He's nothing, and you're everything! You seem like one of the more real, real girls."
Watch the video on RadarOnline.com (Warning: Explicit Language)
Host Andy Cohen pointed out the mutual admiration, telling Sarah he just received a tweet from Brandi saying that she'd "love to hang out with Silverman so bad."
That's when things started getting a tad ribald: Silverman -- in a randy fashion Brandi's mastered as well -- remembered how she once shared a love scene in "a terrible movie" with Cibrian -- or, as she said more bluntly, she "bl*w him in a movie." (The film was the Farrelly brothers' 2001's incest comedy Say It Isn't So.)
Watch What Happens Live airs Sunday thru Thursday on Bravo, at 11/10c.