Brandi Glanville Defends Her 'Nasty' Feud With Joyce Giraud, Blasts Her Co-Star: 'You Get What You Give'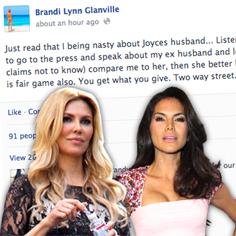 Article continues below advertisement
Glanville took some heat for slamming Giraud and her hubby Michael Ohoven, so she defended herself on Thursday in a Facebook message to her fans.
"Just read that I being nasty about Joyces husband... Listen if Joyce is going to go to the press and speak about my ex husband and leann (whom she claims not to know) compare me to her, then she better bet her relationship is fair game also," the 41-year-old wrote.
"You get what you give. Two way street. xoxoxox"
As RadarOnline.com previously reported, Glanville thinks Giraud is obsessed with using the feud for fame and says she needs to focus on her own issues.
"Joyce thinks she is perfect — so much so that her New Year's resolution wasn't about improving herself at all but was about me," Glanville vented on her Bravo blog.
"Obsessed much? Please Joyce focus on your own issues, of which there are plenty."
Do you think Glanville needs to defend herself, or should the ladies just keep their mouths shut? Sound off in comments below…