Exclusive
'We Don't Tolerate Drug Use' -- Miley Cyrus' Weed Smoking Causes Vegas Beacher's Madhouse Club Management To Quit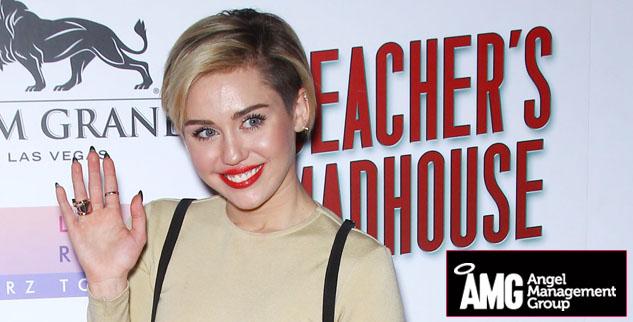 Famous for their celeb clientele, Beacher's Madhouse recently opened a second location in Las Vegas but RadarOnline.com has exclusively learned they might be too wild, even for Sin City — because their management group quit after Miley Cyrus allegedly lit up a joint in the club in Dec. and staff refused to do anything about it.
A spokesperson for the Angel Management Group tells RadarOnline.com that after a Dec. 27 appearance by Cyrus at the Vegas' location in the MGM Grand Hotel, in which she was paid $100,000 to host, the nightlife entertainment company gave notice and resigned as of Jan. 18.
Article continues below advertisement
"Miley was freely smoking weed at one point in the club and when we tried to interject, we were told by Beacher's staff that it was fine," the spokesperson told RadarOnline.com.
"We wanted to remove Miley from the property that night, and they wouldn't let us."
Beacher's Madhouse, owned by Jeff Beacher, has a wildly popular venue in West Hollywood known for its crazy and over-the-top antics, but AMG tells RadarOnline.com that Las Vegas is very strict when it comes to potential drug use.
"We simply cannot endorse any drug use that is allowed at the club," the spokesperson said.
"Drug use is NOT tolerated in Vegas and the Gaming Commission can take away the gambling license for the entire hotel if someone is caught at Beacher's doing drugs. It's not worth our reputation."
AMG represents some of Vegas' hottest nightclubs, including Pure, LAX, Wet Republic, The Social House, HQ, Coyote Ugly and Hakkasan.
Cyrus, 21, has been open about smoking marijuana in the past — lighting up a joint on stage during a performance in Amsterdam, and telling Rolling Stone magazine, "I think weed is the best drug on Earth!"
UPDATE -- 2:40 p.m. PT: While it's confirmed AMG is no longer managing the venue, Beacher's Madhouse tells RadarOnline.com in a statement, "It's absolutely not true, we don't allow anyone to use drugs in the theatre."