Exclusive
NBC Will Not Renew Ann Curry's Contract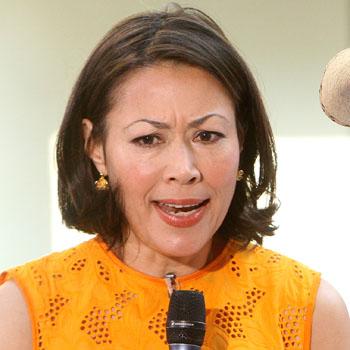 Ann Curry's contract with NBC will NOT be renewed when it expires, the latest fallout after she was dumped as co-anchor of TODAY, RadarOnline.com has exclusively learned.
The 57-year-old veteran journalist's contract with the network, where she is National and International Correspondent/Anchor for NBC News and the Anchor at Large for TODAY, expires imminently, a source confirmed.
Network brass has formally advised Curry's representative, high-profile Washington D.C. lawyer Robert Barnett, that her $12 million-a-year deal won't be extended, the insider said.
Article continues below advertisement
Curry has been at the center of speculation about her future since the network's botched handling of the co-anchor's exit from TODAY in 2012.
Instead of a celebrated send-off with a highlight reel of Curry's 15 years service on the one-time ratings juggernaut, she was given just five minutes at the close of the show, as opposed to Meredith Vieira's star-studded goodbye.
"There was a time very soon after Ann was fired from TODAY that it was inconceivable the network would let her go," a source said.
"She had a lot of allies, but after New York Times reporter Brian Stelter wrote his book (Top Of The Morning: Inside The Cutthroat World Of Morning TV), those people never rallied to Ann's defense.
"There was a lot of information in the book about what went on when Ann was let go from TODAY that only a few people were privy too.
"Conclusions were made, rightly or wrongly, about who the anonymous sources that provided the information to Stelter were."
Article continues below advertisement
Contributing to the network's decision to dump Curry, when the journalist filled in for newsman Brian Williams on NBC Nightly News in May last year, post-TODAY debacle, there was a significant ratings decline.
As a result, the network made the decision to not allow Curry to fill in for Williams, 54, when he went out on medical leave last August recovering from knee replacement surgery.
So, what's next for the multiple Emmy Award winner?
Another source, close to Curry, told RadarOnline.com she will be "going on a very big assignment for NBC News next week."
Longer term, Curry's one-time boss at TODAY, Jeff Zucker, who is now the CNN Worldwide president, has expressed some interest in recruiting her, we've been told.
"If Jeff is interested, one thing is for certain: There is no possible way that Ann will be commanding $12 million or more in her next position," a source previously revealed to RadarOnline.com.
Said another source: "Ann will have to realize that she will never earn $12 million a year again... that was just a different era when those contracts were issued.
"She could probably land a $2 to $3 million contract as a field correspondent and hosting primetime specials. There is a need for that at ABC, especially with Barbara Walters retiring."