Yolanda Foster's Husband Calls 'Real Housewives of Beverly Hills' Cast 'A Bunch Of Clowns'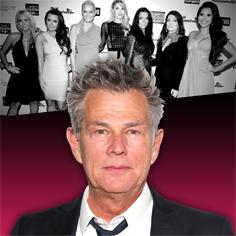 Yolanda Foster's usually mild-mannered husband, David Foster, has taken a swipe at his wife's Real Housewives of Beverly Hills co-stars, calling them "a bunch of clowns!"
Speaking to Nanaimo Daily News, the talented music composer opened up about the popular Bravo reality show -– and even shed light on why Yolanda signed on as a cast member of RHOBH.
"The Beverly Hills show, like she says, is just a bunch of clowns trying to make a living," he said, referring to Brandi Glanville, Carlton Gebbia, Joyce Giraud, Kim Richards, Kyle Richards and Lisa Vanderpump.
Article continues below advertisement
"It's a show about nothing basically, but people seem to like it. Yolanda seems to enjoy it and I think she comes across very classy on the show and doesn't really engage much in all the banter that goes on."
The 49-year-old revealed the show has had little impact on his life and that his wife — a Dutch model -- has anulterior motive for appearing on the show.
"She's doing it for a specific reason, and her reason is that she wants to have a ... lifestyle and fitness show. She's very good at it and she's very good at giving advice," he said.
"She's also been sick with Lyme disease for going on two years now, so she's battling that and she wants to tell her story. So she thinks — and she's right — that (the) Beverly Hills housewives show is a platform for her to tell her Lyme story and to get her point across and then to catapult her to the show that she ultimately wants to do," he added.