What Was He Thinking?! 'Teen Mom' Star Gary Shirley Explains Angry Twitter Rant Against His Ex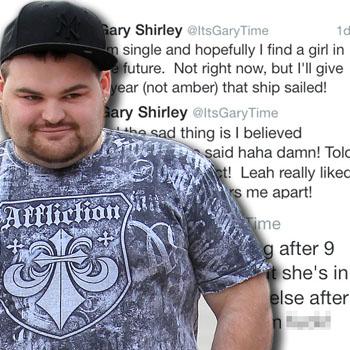 Jenelle Evans and Farrah Abraham aren't the only Teen Mom stars who know how to start at Twitter scandal. MTV mama Amber Portwood's baby daddy Gary Shirley let loose a series of angry tweets about his ex-girlfriend, Kristina.
"Give a girl a promise ring after 9 months of dating, find out she's in a relationship w someone else after she said she broke up with them f**k!" he tweeted Sunday night. "Lol the sad thing is I believed everything she said haha d**n! Told her she should act!"
Article continues below advertisement
Shirley revealed that his daughter with Portwood, Leah, "really liked her that's what tears me apart! sic"
He continued, "I'm single and hopefully I find a girl in the future. Not right now, but I'll give a year …"
For anyone hoping for a reunion between him and Portwood, who was recently released from prison, he insisted, "(not amber) that ship sailed!"
Shirley later deleted the tweets and most mentions of his girlfriend on his Twitter timeline. Why the second thoughts?
Shirley tells RadarOnline.com exclusively, "You know how it is, you gotta be careful about what you say about people."
He declined to comment further, but hinted that he "possibly" will discuss the breakup at a later date.