Exclusive
'Teen Mom 3' Axed! Lack Of 'Drama' Blamed For Series' Demise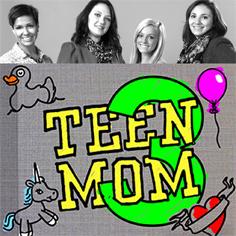 UPDATE 3:01 p.m. PT -- MTV just released a statement, confirming Radar's report. "MTV will not be moving forwarding with a second season of Teen Mom 3. We're thankful to Briana, Katie, Mackenzie, Alex and their families for sharing their stories as they navigate young parenthood and for helping to have a positive impact on the importance of teen pregnancy prevention."
---
MTV has canceled Teen Mom 3 after only one season, multiple sources confirm to RadarOnline.com.
Article continues below advertisement
"The network has told the cast and crew that the show is over, but they have not given any details as to why it was not renewed," a production insider said.
MTV has not yet responded to Radar's request for comment.
Still, the show's stars have taken to social media to lament the demise of the series which chronicles the lives of four girls from the fourth season of 16 and Pregnant, Briana DeJesus, Mackenzie McKee, Alexandria Sekella and Katie Yeager.
"It has come to an end you guys! Teen Mom 3 was one of the best experiences I ever had! I will never forget it!" DeJesus tweeted Saturday.
"Time to move on from MTV and do bigger and better things & no I don't mean become a porn star," she wrote, taking a dig at Teen Mom alum and Backdoor Teen Mom Farrah Abraham.
One fan responded that she wasn't surprised about the cancellation, adding that the season wasn't "full of drama" -- like Jenelle Evans and Amber Portwood brought to Teen Mom 2.
Article continues below advertisement
DeJesus agreed, writing back, "I Know! That's the reason why!"
The show's other stars also took to social media to talk about the end of the show.
"Yes, no more Teen Mom 3 Guess we weren't enough train wrecks for it for be interesting. America wants to watch crazies. Oh well," Sekella wrote on Dec. 7 with the hashtag "relieved."
Yeager appeared to also see the silver ling with the show's cancellation.
"I'm grateful for this experience Molli and I are ready to move on from this and live a normal life. Thanks for all the love and support," she wrote.
Meanwhile, Douthit posted a somber message about the production news: "I'm very sad MTV chose to cancel. I wanted to keep sharing my faith on TV. And Mack wanted to share her struggle with diabetes. So sad."
Teen Mom 2, meanwhile, returns for its fifth season on Jan. 20, 2014.