Exclusive
Selena Gomez Catfish Victim Reveals Ex-Boyfriend's Nasty Email: 'You Won't Succeed Without Me!'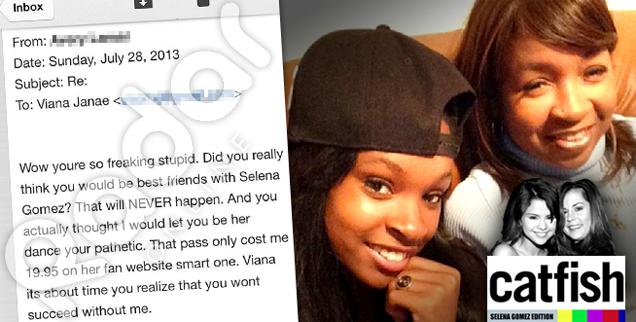 After being offered a choreography job on pop superstar Selena Gomez's tour, Viana Janae Jones could barely contain her excitement, but as RadarOnline.com exclusively reported, her dreams shattered when she realized her bitter ex-boyfriend was behind the elaborate hoax -- "catfishing" her into a meeting with the "Come & Get It" singer.
Now, Radar has exclusively obtained the email exchange from her ex, who finally revealed his scheme after she traveled to the singer's home for what she thought was a planned "sleepover" with the pop star.
Article continues below advertisement
"Wow, you're so freaking stupid," the boyfriend's email stated.
"Did you really think you would be best friends with Selena Gomez? That will NEVER happen."
See the entire email here: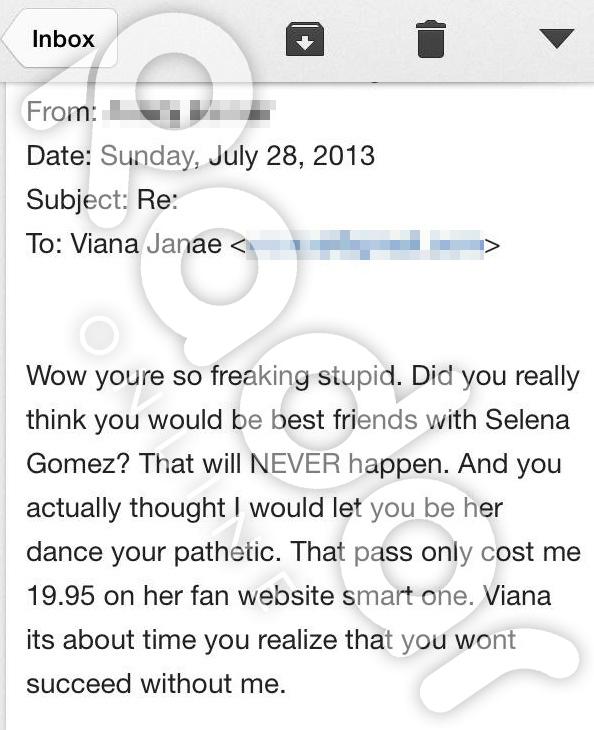 As Radar previously reported, Viana began corresponding online in January with someone she thought was Gomez. After months of correspondence, which included being offered a choreography job on the tour, Viana finally received an invite to hang with Gomez at her Los Angeles home.
Traveling from Fresno, Calif., she spent hundreds of dollars on the July 28 trip, only to find out once she was outside Gomez's home that her boyfriend was behind the hoax.
Despite having what she thought was a real backstage pass in her hand, Viana, 16, realized she had been "catfished" — just like the hit MTV show.
"You're pathetic. That pass only cost me $19.95 on her fan website, smart one," her boyfriend, who Viana has chosen not to publicly name, wrote in the nasty email.
Article continues below advertisement
"Viana it's about time you realize that you won't succeed without me."
After realizing Gomez hadn't invited her over, Viana rang the intercom anyway and a young woman answered — followed by Gomez's mother Mandy Teefey coming out of the house to figure out what was going on.
"She was very sweet and sympathetic. We had brought Selena a birthday present, and we also brought gifts for her newborn sister," Viana told Radar.
"Though we were glad her mom accepted the gifts, we left humiliated and didn't get to meet Selena."
A source close to Gomez confirmed to Radar that the unbelievable incident did indeed take place.