Exclusive
Selena Gomez Shocker: Mom & Daughter 'Catfished' Into Fake Sleepover At Pop Star's Los Angeles Mansion!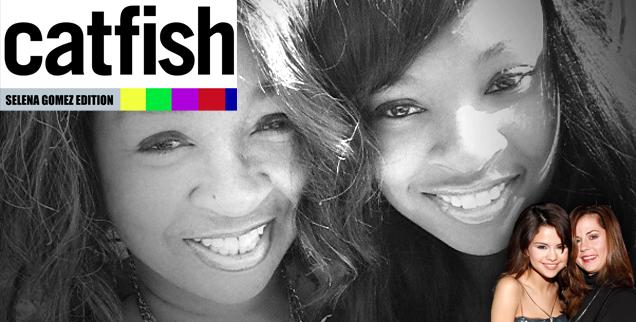 Viana Janae Jones got the surprise of her life when she began corresponding with pop superstar Selena Gomez earlier this year, an online friendship that spiraled into a heartbreaking ordeal when she discovered she'd been "catfished" — by her bitter ex-boyfriend.
Speaking exclusively to RadarOnline.com, Viana, 16, has revealed the "nightmare" that led she and her mother Valeta Jones to Gomez's home for what they thought was a planned "sleepover" with the pop star!
Article continues below advertisement
"Back in January, I began corresponding with someone whom I thought was Selena Gomez. She reached out to me and said she saw my dance videos online and wanted me to work on her tour as one of her backup dancers," Viana told RadarOnline.com, adding that she even received a backstage pass in the mail.
After months of correspondence online, which included being offered a choreography job on the tour, Viana finally received an invite to hang with Gomez at her Los Angeles home.
An address in hand, she convinced her mother to come with her to meet the "Come and Get It" pop star for a "girls weekend," which she's now conceded "seemed too good to be true."
Viana's mom was hesitant, but admitted to RadarOnline.com: "I didn't want to tell my child 'no,' in the small chance that this once-in-a-lifetime opportunity might be real."
Traveling from Fresno, Calif., the mother-daughter duo spent hundreds of dollars on the July 28 trip, only to find out once they were outside Gomez's home that they'd been "catfished" — just like the hit MTV show.
Article continues below advertisement
Viana's dreams of meeting Gomez were crushed when she received an email just as they were pulling up to the home stating the entire meeting – and months-long friendship --was an elaborate hoax.
"The email said that I was pathetic for thinking I could be friends with Selena," Viana recalled, admitting that her "jealous" ex-boyfriend – whom she refused to name -- was behind the entire ordeal and sent the revealing email.
Despite being "crushed," Viana decided to take a chance and rang Gomez's intercom anyway and a young woman answered.
Viana thought it was Gomez, but ultimately it wasn't.
"I tried to explain everything that happened without coming off as a crazy fan. She hung up before I could finish explaining, which made my stomach turn," she said.
Seconds later, Gomez's mother Mandy Teefey came out of the house to figure out what was going on.
Article continues below advertisement
"She was very sweet and sympathetic. We had brought Selena a birthday present, and we also brought gifts for her newborn sister.
"Though we were glad her mom accepted the gifts, we left humiliated and didn't get to meet Selena," said Viana.
A source close to Gomez confirmed to RadarOnline.com that the unbelievable incident did indeed take place.
Having learned her lesson, the aspiring dancer said she believes "everything happens for a reason" and hasn't given up hope of one day meeting the "Come & Get It" singer.
"I haven't heard from Selena or her mom," Viana said. "But I haven't lost hope that I'll meet her one day."