Hollywood Publicist Ronni Chasen's Murder: Shocking Autopsy Report Contradicts Police Version Of Her Death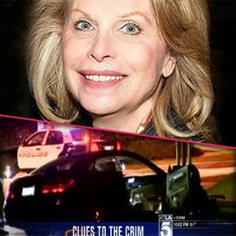 Article continues below advertisement
The BHPD formally concluded that Smith was trying to rob Chasen and then shot her.
However, a section titled "Informant/Witness Statements" in the autopsy report released by the Los Angeles County Coroner's Office states that she was not shot by a man on a bike, but that as she was stopped at a red light "an unknown vehicle pulled up and someone fired approximately four gunshots into her vehicle," the LA Times reported.
As RadarOnline.com previously reported, her death was shrouded in mystery and many people in Hollywood believed there was a conspiracy to cover up the true details of the crime.
PHOTO: Last Picture Of Slain Ronni Chasen
Director Ryan Katzenbach filed a lawsuit asking police to repeal their security hold on Chasen's autopsy file in November, asking the department to provide him with all the documents related to the case.