Exclusive
NeNe Leakes Exposed: Contract Proves RHOA Star Agreed To 'Roc Da Runway' Appearance, Despite Her Denial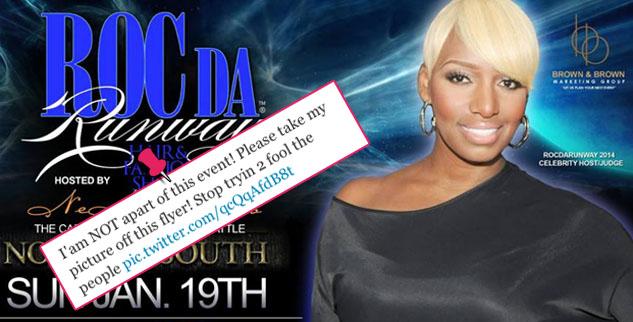 Article continues below advertisement
"NeNe was booked to host the evening but backed out," organizer Carlondo Brown tells RadarOnline.com – adding that he has a signed contract to prove it.
The alleged contact, signed Nov. 26, appears to be signed by the reality TV star, who agrees to make a one-hour appearance at the show, followed by one hour at the after party.
Leakes' two-hour appearance fee was $15,000 -- which includes all travel and lodging expenses -- and she was given a $7,500 deposit.
The "Roc Da Runway" event flyers bared the Bravo star's image with the following info: "Celebrity Guest NeNe Leakes (The Real Housewives of Atlanta) will be hanging out with us this year as a HOST & JUDGE!"
After the flyers surfaced online, Leakes re-tweeted several posts regarding the evening, claiming that she is not hosting the event and declaring the details "all lies."
"I am NOT a part of this event! Please take my picture off this flyer! Stop trying 2 fool the people," Leakes claimed on Dec. 25.
The event organizer is "appalled" by her Twitter rant, exclusively telling RadarOnline.com: "We are disappointed that she disrespected and hurt our brand. She has no integrity."
"Our hope this that she'll be honest with her fans and admit she was booked but decided to back out for some unknown reason," Brown adds.
RadarOnline.com has learned that RHOA's Cynthia Bailey and her husband Peter Thomas will replaced Leakes for the event.