Exclusive
Secret 'Housewives' Contract Reveals What Fame Hungry Stars Sign-Up For -- Lose Virtually All Their Rights, Agree To Be Secretly Recorded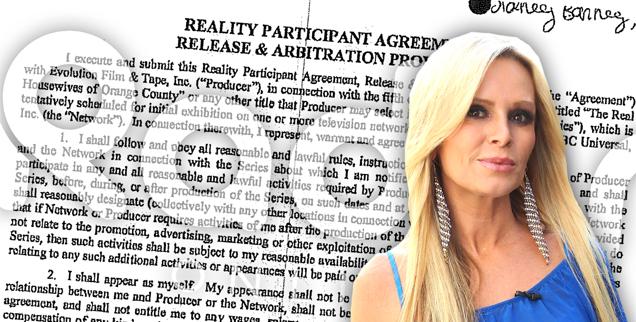 Article continues below advertisement
Read The Exclusive Documents Here
Titled as a "Reality Participation Agreement, Release & Arbitration Provisions," the contract is between the real housewife and the production company, Evolution Film & Tape, Inc. and the network, NBC Universal, and it's made clear that any agreement of wages or compensation will be made in a separate contract.
Listen! 'RHOP' star Wendy Osefo breaks down the "most intense fight in the show's history" in under 2 minutes.
"My appearance, depiction, and portrayal in connection with the Series, and my actions and the actions of others in connection with the Series, may be disparaging, defamatory, embarrassing or of an otherwise unfavorable nature, may expose me to public ridicule, humiliation or condemnation, and may portray me in a false light," the contract reads — basically admitting to heavily editing the footage.
Article continues below advertisement
In all, the women must agree to 42 terms including:
Housewives CAN'T participate in any other "unscripted reality program" without approval from network and/or one year AFTER final appearance on show.
Performers CAN appear in television shows and movies without approval from network/producers but obligations to RHOC comes first.
The appearance "shall not constitute an employment relationship" and the agreement does "shall not entitle me to any wages, salary, corporate benefits, workers' compensation benefits, or other compensation of any kind."
If performer performs any music NOT provided by producers of the show, the performer will waive any rights to royalties, and grants producer the right to reproduce, etc.
"I am in good physical, emotional, psychological, and mental health and am capable of performing any activities that I may perform during the course of participating in the Series (even though I do not know now precisely what those activities shall entail.)"
Some of the terms are written in all capital letters, pointing to great importance.
Both the producer and the network are given "the right to record my voice using concealed devices while I am talking on the telephone. TAPE AND AUDIO RECORDINGS OF MY VOICE AND STATEMENTS WHILE I AM ON THE TELEPHONE AND THE ACTIONS AND STATEMENTS OF THE OTHER PARTICIPANTS WHILE THEY ARE ON THE TELEPHONE MAY ME MADE USING SUCH RECORDING DEVICES, AND OTHER DEVICES LOCATED THROUGHOUT THE LOCATIONS, INCLUDING AREAS IN WHICH A PERSON UNDER OTHER CIRCUMSTANCES MIGHT HAVE A REASONABLE EXPECTATION OF PRIVACY."
Article continues below advertisement
Another clause reads, "MY PARTICIPATION IN THE SERIES MAY CAUSE ME TO BE IN ENVIRONMENT WHERE I MAY HEAR, SEE, OR ENCOUNTER SPEECH OR PHYSICAL CONTACT, OR OTHERWISE EXPERIENCE SENSATIONS THAT I, OR OTHERS, MAY CONSIDER OFFENSIVE. I FREELY AND KNOWINGLY CONSENT TO SUBJECT MYSELF TO SUCH SPEECH, CONDUCT AND SENSATIONS FROM OTHER THAN PRODUCER."
Interestingly, while many of the housewives go on to diversify their incomes with spokesperson deals and even taking entrepreneurial incentive to start their own lines of clothing and food, the contract blatantly states they are not to mention or plug any products.
"I shall not mention or plug any product, service, venture on things on the Series whatsoever. I have not given or agreed to give anything of value to anyone to be a participant in the Series, have not accepted or agreed to accept anything of value to promote any products, services, or ventures in connection with the series, and shall not do any of the foregoing in the future," it reads.
"I know that Producer and the Network do not permit any such conduct, and that it may be a federal offense not to tell the Producers and the Network's advance written request."
Article continues below advertisement
All participants agree not to sue and sign that "IF ANY CONTROVERSY OR CLAIM ARISING OUT OF OR RELATING TO THIS AGREEMENT, THE BREACH OF ANY TERM THEROF....THE PARTIES AGREE TO ENDEAVOR FIRST TO SETTLE THE CONTROVERSY OR CLAIM BY MEDIATION."
As RadarOnline.com previously reported, Simon has told a California judge that the pair's three children should not be allowed to appear on the hit Bravo show because they have suffered "consistent embarrassment" due to their mother's behavior.
Also included in the court documents is a Parental Consent that both Simon and Tamra signed in 2009, giving permission for their daughter, Sidney, to appear on the show.