Ex's Killing Of 3-Year-Old Off High-Rise 'His Sick Way' Of Keeping Child Away From Me, Grieving Mother Says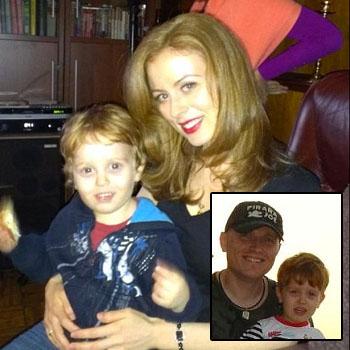 The New York woman whose ex-husband threw their 3-year-old son off a 52-story Manhattan high-rise Sunday, before jumping off himself, said the man's actions were "his sick way to take their son, Kirill away from me" in the heat of a contentious custody battle.
Svetlana Bukharina, a mathematician/violinist, issued a statement through her lawyer Alla Roytberg Monday evening, saying she split with Dmitriy Kanarikov in August after four years of marriage, a severance spurred by an act of domestic violence on his part.
Article continues below advertisement
In the wake of the breakup, Bukharina said Kanarikov vowed "he would take the child away, and I would shoot myself from grief," adding the two were at odds dividing other assets, such as their home and property holdings.
"When we first separated, Dmitriy told me that he would leave me alone only if I left him everything we had together,'' she said, noting that "money and assets were most important to him."
An insider told the NY Post that during the split, Dmitriy told his ex, "If I can't have him, then you can't'' and vowed "to kill the kid" if she didn't go along with his wishes, vis a vis the split.
Kanarikov's two first visits with the boy were supervised, leaving Sunday as the Ukrainian immigrant's first unsupervised visit with his son. Bukharina said that Kanarikov, a Brooklyn-based systems developer, "never did anything violent against the child" in the Dec. 8 and Dec. 15 visits prior to Sunday's.
Article continues below advertisement
"Both times, Kirill was happy after seeing his dad," said Bukharina, adding that Skype calls she agreed to "were also going well."
As we previously reported, police said that at 11:45 a.m. Sunday, Dmitriy and Kirill entered South Park Tower, located at 124 W. 60th St, a location familiar to Dmitriy as a friend had once lived there. The killing and suicide took place at 12:05 p.m., and the red-headed toddler -- clad in Christmas pajamas -- and his father were found on the rooftops of neighboring buildings where they had landed.
At the time of the holiday tragedy, Kanarikov was on his third three-hour visit with his son, who he was supposed to drop off with his ex-wife at the NYPD's 17th Precinct station house at 1 p.m. Sunday. Bukharina mentioned that Kanarikov informed his parents he was taking Kirill to Grand Central Station, but instead headed to the high-rise.
"He planned it before the visit, and probably after the judge ordered him to pay child support," Bukharina, 32, said. She called her late son "a very sweet, wonderful child, who was loved very much," and "will forever live on in my heart."