Ukrainian Man In Custody Battle Tosses Son Off NY High Rise, Then Jumps To His Own Death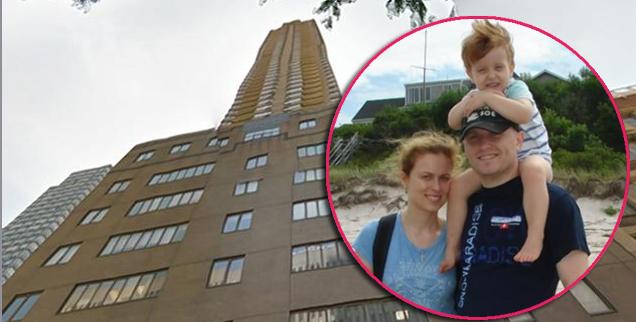 In a holiday tragedy, police in Manhattan say a Ukrainian man involved in a custody battle with his ex-wife, threw their 3-year-old son off a 52-story Upper West Side apartment high-rise, then made the fatal jump himself, RadarOnline.com has learned.
Brooklyn resident Dmitriy Kanarikov, 35, was slated to bring his 3-year-old son Kirill to his ex-wife Svetlana Bukharina at the NYPD's 17th Precinct station house at 1 p.m. Sunday, after a three-hour visit, police said.
Article continues below advertisement
At 11:45 a.m., Dmitriy and his son ventured inside South Park Tower, located at 124 W. 60th St, a spot familiar to Dmitriy as a friend had once lived there. The killing and suicide took place, police said citing surveillance footage, at 12:05 p.m. The red-headed toddler and his father, who worked as a systems developer for the finance firm TIAA-CREF, were found on the rooftops of neighboring buildings where they had landed.
When Kirill -- clad in Christmas pajamas -- was rushed to nearby St. Luke's-Roosevelt Hospital, "You could tell he was slipping away," eyewitness Luis Ortiz told the NY Post, calling the incident "just heartbreaking."
Svetlana "is a mess,'' following the tragic incident, police said; a source told the paper she had previously said her ex-husband was abusive, and had "threatened to kill himself and then kill our child" in the past. Asked for comment on the horrific situation, she told the NY Daily News, "This is a private matter for my family and my friends."
Article continues below advertisement
A neighbor of the man's parents described Dmitriy to the Post as "a serious guy" who "didn't smile much," except for when his son was present.
"It looked like that kid was his world … when he was with the kid, he always looked happy," the neighbor said.
Prior to the couple's split, Svetlana, a mathematician/violinist by trade, had posted in March to her Facebook page a shot of the once-happy family, writing, "I have the best husband and son in the world."
The couple split in August, and in a Sept. 15 post, Dmitriy wrote on Facebook, "I want to be the best dad and husband - nothing is more important to me right now."