A New Chapter In A Bronx Tale: 'Sopranos' Star Lillo Brancato Freed From Jail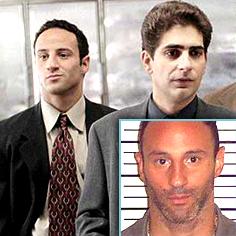 Lillo Brancato Jr., the actor of The Sopranos and A Bronx Tale fame, has been released from custody in New York for his role in the fatal Dec. 10, 2005 shooting of an off-duty police Officer Daniel Enchautegui.
Brancato, 37, had been behind bars since 2008 at Hudson Correctional Facility, after he was convicted in connection with the break-in of Enchautegui's Bronx home with cohort Steven Armento, who felled the lawman with a gunshot.
Article continues below advertisement
Enchautegui's sister complained to the NY Post over the actor's release, saying, "I'm still upset that he was not convicted of the murder and that he did not serve enough time."
Brancato, who played Matthew Bevilaqua on the HBO hit, will remain on parole through Dec. 7, 2015.