Farewell To A Giant: Mourners Gather To Pay Tribute To 'Sopranos' Star James Gandolfini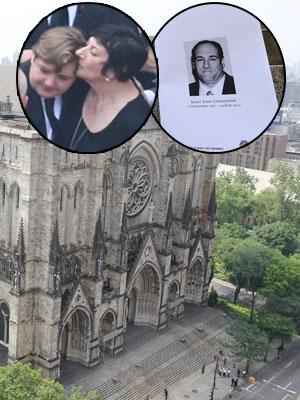 Hollywood actors Alec Baldwin, Edie Falco and Steve Buscemi, New Jersey Gov. Chris Christie and celebrity chef Mario Batali were among thousands of people to farewell The Sopranos star James Gandolfini, who died of a heart attack while visiting Rome, in New York Thursday.
"You were a good boy," David Chase, the HBO show's creator, told mourner at the Cathedral Church of Saint John the Divine in Upper Manhattan.
Article continues below advertisement
The actor's widow, Deborah Lin Gandolfini, also spoke at the ceremony.
"My husband was an honest kind and loving man," she said.
"He cared more about others than himself. He took the time to ask others in the course of the day how they were doing...Jim, one of the things I loved the most was watching you be the father that you were to Michael and Lily...Thank you for the memories of the beautiful life we shared together...I love you Jim and I always will. Rest in Peace."