Scandal: Katy Perry BUSTED Lip-Synching At International Awards Show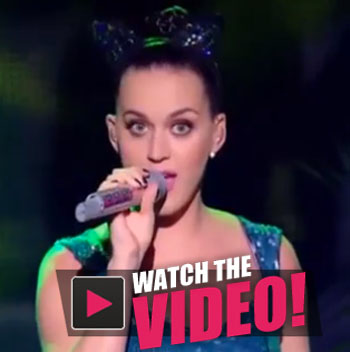 Is that you Beyoncé?
Katy Perry was caught in an outrageous lip-synching accident over the weekend and RadarOnline.com has the video of her musical mishap.
The "Roar" singer was performing at the NRJ Music Awards in Cannes on Saturday night when the incident happened, causing shock and outrage at the fake out.
Katy was mouthing along to her hit song but the words coming out of the speaker weren't matching what she seemed to be saying.
Article continues below advertisement
The host quickly stepped in to stop the performance, telling the crowd: ""I'm sorry to stop all your energy — I prefer you to be the best," and asking her if she wanted to start over again.
Katy quickly agreed and sang her song live, without a backtrack to boost her vocals.
The Grammy nominated song is also being used in promotional commercials for the 2014 Winter Olympics.
The organization released a statement explaining the snafu, saying: "Katy Perry sang live during the NRJ Music Awards in Cannes on Saturday night, but unfortunately a bad soundtrack was accidentally launched, taking over the live performance of Katy at the beginning of the delivery tube of the 'Roar,'" a statement on The Wrap said, translated from French to English by Google Translate. "TF1 and NRJ present their apologies to Katy Perry … for this technical problem beyond our control."
Check out the video and tell us what you think about Katy lip-synching.