Britney Spears Unbelievably Bad Singing Revealed In Microphone Feed From Las Vegas Concert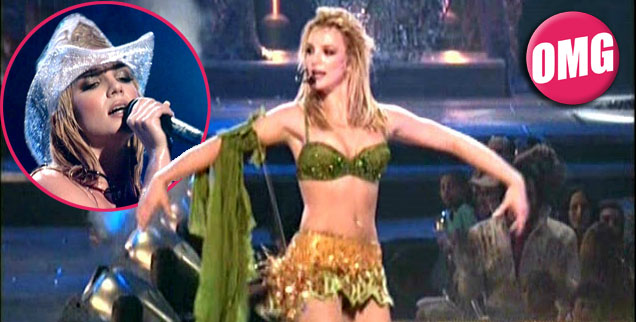 Britney Spears' outrageously awful live vocals from a 2001 concert that was filmed for HBO are being revealed, thanks -- or "no thanks" Brit might be saying -- to an unearthed YouTube video with audio from her isolated microphone.
The video's leak couldn't come at a worse time for Spears, who is about to embark on a two-year engagement in Las Vegas.
Brit's singing voice has always been questioned and it's well established that she often lip-synchs along to a pre-recorded track.
Article continues below advertisement
Now we know why.
Her voice, at least during this concert, is like something you might hear during the early rounds on American Idol, where the worst contestants are showcased.
Think fingernails on a blackboard at the very least.
That's not to take away from Spears as a performer who definitely knows how to dance and how to dress for her fans.
Her singing though? Maybe she should just keep on lip synching!
youtube=https://www.youtube.com/watch?v=2FU3aAEayUE&w=420&h=315