Convicted Murderer Jodi Arias Says Her Former Cellmate Was Lying About Threats To Cut Prosecutor's Throat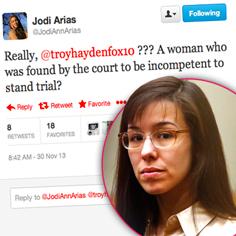 Jodi Arias' former cellmate claimed that she threatened the prosecutor and said she would "cut his throat" if she was found guilty but the convicted murdered is hitting back at those claims and saying they're not true.
An Arizona jury did not believe Arias' explanation of self-defense in the brutal slaying of Travis Alexander, and found her guilty of first degree murder following a lengthy trial where she admitted that she repeatedly lied to police, friends and family about how she stabbed Alexander 29 times, shot him in the face and slit his throat.
Article continues below advertisement
Despite being locked up in the Estrella jail in Maricopa County, Jodi communicates via Twitter with the outside world and recently wrote that Cassandra Collins lied during her interview with Troy Hayden at FOX 10.
"Really, @troyhaydenfox10 ??? A woman who was found by the court to be incompetent to stand trial?" Arias wrote to the reporter.
Collins claimed that Arias was threatening Juan Martinez prior to her first-degree murder conviction.
"She said that if she was given the death sentence … she wanted to get her revenge... she knows inmates on the outs to do a mafia bow tie.. yeah. Cut his throat," Collins said in the interview.
However, Arias took offense to the quotes and hit back against Collins, writing: "You conveniently failed to mention that -- way to mislead your viewers."
Hayden asked her if she was denying that she said those things she responded "Of course."
Article continues below advertisement
Collins also said Arias seemed to have an unusual perspective about the prosecutor.
"She asked me questions like why doesn't Juan Martinez love me? And I'm like, love you? He's your prosecutor.. he's there to prosecute you for a crime.. and I'm like why doesn't he love you?" she told Hayden and told him that she wasn't joking and that she is worried about Martinez' safety.
"Yeah.. she was serious.. why doesn't Juan Martinez love me? She's out of her freakin' mind."
"He need to get good security staff around him to make sure she can't get anybody on the outs to solicit something.. to harm him or to hurt him... She's very dangerous.. very dangerous."
Do you believe Arias or Collins? Tell us in comments.