We Want Out! Jennifer Lawrence And Boyfriend Nicholas Hoult Trapped By The X-Men Contracts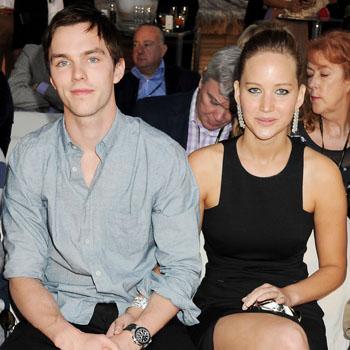 No special powers can release Jennifer Lawrence and her boyfriend, Nicholas Hoult from the X-Men universe -- for now, at least.
The Oscar-winning actress and actor Hoult, who play Mystique and Beast in the franchise, "feel they are prisoners of the X-Men movies and the director, Bryan Singer," a source tells RadarOnline.com, since they signed strict contracts back in 2010 binding them to future films.
Article continues below advertisement
The couple already made X-Men: First Class in 2011, and the upcoming follow-up, X-Men: Days of Future Past. With those two under their belts, they "were shocked to see a new X-Men film was announced for 2016," the source revealed. "Now they have to reshuffle their plans in order to accommodate a June shoot."
"Jennifer especially is losing millions of dollars by doing these movies when she could have her pick of juicy parts," the source says. Coming off of the success of The Hunger Games: Catching Fire and with Oscar buzz mounting again for her part in American Hustle, she's more desirable to casting directors than ever.
Singer's announcement on Twitter that X-Men: Apocalypse would be filmed for a May 2016 release "caught them by surprise," the source explains. "But the one note of relief is that they know it will mark the end, since they each signed three-film contracts they signed in 2010," the source says.
"Jen knows 20th Century Fox, which produces the movies, is going to throw a lot of money at her to keep her involved in the franchise," the source continues, "but she's ready to move on. They are not fun movies for her to make, and the only thing she likes about them is hanging out with some of those other actors--especially her boyfriend, Nicholas!"