Jennifer Lawrence Remembers Back To When 'Producers Told Me To Lose Weight'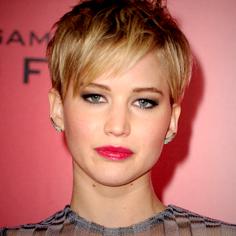 Jennifer Lawrence might be on top of the world now, but remembers vividly when she was an up-and-coming actress, and the powers-that-be were more concerned with her waistline, than the bankable star's bottom line.
"When I was younger, I would do some movies where producers told me to lose weight," Lawrence told US Weekly. "I remember that really breaking my heart because it's hard to hear that you need to lose weight when you don't think that you're fat."
Article continues below advertisement
Lawrence, 23, said she's disturbed by the industry's waifish standards, and what trickle-down effect they have on society, noting that "people are watching us actors, looking at our bodies are comparing themselves to Photoshop pictures of celebrities."
The Academy Award-winning beauty said she's particularly perturbed by "women calling other women fat.
"We have to think about the way we talk about each other in the way we see beauty," she said.
Lawrence will be back on the silver screen in The Hunger Games: Catching Fire, opening in theaters Friday.